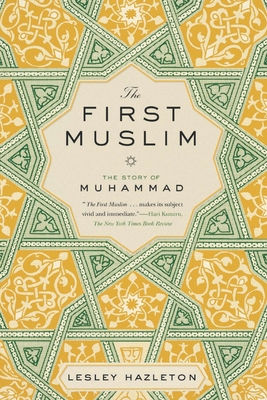 The First Muslim
The Story of Muhammad
Paperback

* Individual store prices may vary.
Other Editions of This Title:
Digital Audiobook (3/6/2017)
MP3 CD (3/7/2017)
Compact Disc (3/7/2017)
Description
The extraordinary life of the man who founded Islam, and the world he inhabited—and remade.

Lesley Hazleton's new book, Agnostic: A Spirited Manifesto, is out now from Riverhead Books.

Muhammad's was a life of almost unparalleled historical importance; yet for all the iconic power of his name, the intensely dramatic story of the prophet of Islam is not well known. In The First Muslim, Lesley Hazleton brings him vibrantly to life. Drawing on early eyewitness sources and on history, politics, religion, and psychology, she renders him as a man in full, in all his complexity and vitality.

Hazleton's account follows the arc of Muhammad's rise from powerlessness to power, from anonymity to renown, from insignificance to lasting significance. How did a child shunted to the margins end up revolutionizing his world? How did a merchant come to challenge the established order with a new vision of social justice? How did the pariah hounded out of Mecca turn exile into a new and victorious beginning? How did the outsider become the ultimate insider?

Impeccably researched and thrillingly readable, Hazleton's narrative creates vivid insight into a man navigating between idealism and pragmatism, faith and politics, nonviolence and violence, rejection and acclaim. The First Muslim illuminates not only an immensely significant figure but his lastingly relevant legacy.
Praise For The First Muslim: The Story of Muhammad…
"A rich biography… Those who read it will come away well prepared to understand the prophet whose message, 14 centuries later, is the creed of more than a billion and a half people." –The San Francisco Chronicle

"This book offers a welcome chance to read [Muhammed's] life story in a more familiar and accessible form than the Islamic sources… The First Muslim succeeds. It makes its subject vivid and immediate." –Hari Kunzru, The New York Times Book Review

"Richly detailed and beautifully written... [Hazleton] is able to do with words what is almost never attempted in pictures... indispensable." –The Seattle Times

"Like her subject, Hazleton brilliantly navigates 'the vast and often terrifying arena in which politics and religion intersect,' revealing the deep humanity of faith." –More Magazine

"The book's focus is an effort to portray the prophet's unique circumstances and recognizable humanity… Hazleton's biography covers the broad strokes of his life with fairness—she doesn't gloss over his more fallible moments—and insight." –NPR

"Hazleton is both a good storyteller and writer. Here she has brought to life a man about whom much has been written and whom millions revere, yet about whose actual life very little is known… A very readable book." –The American Spectator

"This story is deep with details not only of Muhammad's life journey, but with historic information about the culture of the times in Arabia... filled with rich color of the locations, culture, and people; it is a book plentiful with tales of Muhammad's life that follow logically from orphan to religious leader, but more than that, it enriches us with the detail of a time and place in history." –The New York Journal of Books

"[A] humane, audacious biography… An elegant narrative crafted for open-minded readers… a vivid canvas of Arabian life in the early seventh century." –Ha'aretz

"A genuine attempt to try to understand the human experience Muhammad went through…  Hazleton queries and questions in a way that will resonate with a non-academic audience trying to come to grips with the fastest growing religion on the planet. It is a welcome antidote to the barrage of hatred and distortion to which Islam has been subjected since the early Bush years, an opportunity for balance to be restored and for those of us who don't subscribe to the extremes to regain the middle ground." –Guernica

"Hazleton... is in the revelation business: She's out to consider Muhammad as a mortal human, a man who lived and died and was vulnerable... A world-class history teacher who contextualizes the realities of [his] far-off times... [she] can effortlessly distill years of research into a few conversational sentences." –The Stranger

"A strikingly nuanced portrait of how Muhammad the man—fallible and complex—became Muhammad the prophet… With the insight of a psychologist and the details of a historian, Hazleton portrays a Muhammad both divinely inspired and deeply human." –Spirituality and Health

"Among the spate of recent biographies of the Prophet Muhammad, this one stands out. Hazleton, a former Jerusalem-based journalist and a psychologist, brings both of her professional skills to bear in this perceptive work, examining Muhammad's life within its historical context and offering insights into the struggles of the early Muslim community. Indeed, 'The First Muslim' might be considered a prequel to her celebrated 'After the Prophet: The Epic Story of the Shia-Sunni Split'. Hazleton's mining of the earliest biographies of Muhammad has yielded anecdotes that even scholarly Muslims may not know (although the absence of discussion of Muhammad's last sermon may be missed by some). 'The First Muslim' is a beautifully written and dynamic work that Muslims, those wanting to learn more about Islam, and lovers of the English language will enjoy." — Asma Hasan, Saudi Aramco World

"Vivid and engaging... a fluid and captivating introduction that will be invaluable for those seeking a greater understanding of Islam's message and its messenger." –Publishers Weekly

"Winning... a level-headed, elegant look at the life of the prophet amid the making of a legend." –Kirkus

"Beautifully written, The First Muslim respectfully humanizes the inimitable prophet of Islam and sees him whole." –Cornel West, Professor, Union Theological Seminary, and Professor Emeritus, Princeton University

"Hazleton sets her keen eye and her sculpted prose on one of the most fascinating and misunderstood figures in history. What she uncovers is a complex yet utterly relatable man whose personal trials and triumphs changed the course of history. This is a wonderful book." –Reza Aslan, author of No God but God and How to Win a Cosmic War

"Hazleton has done the seemingly impossible: rendered into human proportions a man who is more often the subject of pious veneration or political vitriol. This is the most readable, engaging study of Muhammad I have ever come across." –G. Willow Wilson, author of Alif the Unseen and The Butterfly Mosque

"The First Muslim tells the mostly unknown story of the prophet Muhammad in a masterful, accessible, and engaging way.  Hazleton's empathetic touch softens her rigorous scholarship and research as she crucially demystifies both the man himself and the birth of Islam. An absolute delight (and indispensable) for believers and non-believers alike." –Hooman Majd, author of The Ayatollah Begs to Differ and The Ayatollahs' Democracy
Riverhead Books, 9781594632303, 384pp.
Publication Date: February 4, 2014
About the Author
Lesley Hazleton reported on the Middle East from Jerusalem for more than a dozen years, and has written for Time, The New York Times, The New York Review of Books, and Harper's, among other publications. Her last book, After the Prophet, was a finalist for the PEN-USA book Award. Hazleton lives in Seattle.