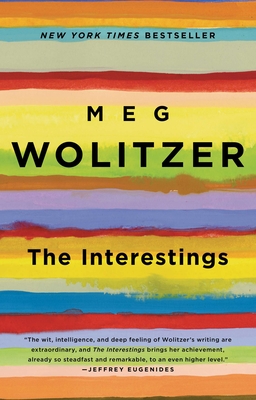 The Interestings
A Novel
Paperback

* Individual store prices may vary.
Other Editions of This Title:
Digital Audiobook (4/8/2013)
Description
"Remarkable . . . With this book [Wolitzer] has surpassed herself."—The New York Times Book Review

"A victory . . . The Interestings secures Wolitzer's place among the best novelists of her generation. . . . She's every bit as literary as Franzen or Eugenides. But the very human moments in her work hit you harder than the big ideas. This isn't women's fiction. It's everyone's."—Entertainment Weekly (A)

The New York Times–bestselling novel by Meg Wolitzer that has been called "genius" (The Chicago Tribune), "wonderful" (Vanity Fair), "ambitious" (San Francisco Chronicle), and a "page-turner" (Cosmopolitan), which The New York Times Book Review says is "among the ranks of books like Jonathan Franzen's Freedom and Jeffrey Eugenides The Marriage Plot."

The summer that Nixon resigns, six teenagers at a summer camp for the arts become inseparable. Decades later the bond remains powerful, but so much else has changed. In The Interestings, Wolitzer follows these characters from the height of youth through middle age, as their talents, fortunes, and degrees of satisfaction diverge.

The kind of creativity that is rewarded at age fifteen is not always enough to propel someone through life at age thirty; not everyone can sustain, in adulthood, what seemed so special in adolescence. Jules Jacobson, an aspiring comic actress, eventually resigns herself to a more practical occupation and lifestyle. Her friend Jonah, a gifted musician, stops playing the guitar and becomes an engineer. But Ethan and Ash, Jules's now-married best friends, become shockingly successful—true to their initial artistic dreams, with the wealth and access that allow those dreams to keep expanding. The friendships endure and even prosper, but also underscore the differences in their fates, in what their talents have become and the shapes their lives have taken.

Wide in scope, ambitious, and populated by complex characters who come together and apart in a changing New York City, The Interestings explores the meaning of talent; the nature of envy; the roles of class, art, money, and power; and how all of it can shift and tilt precipitously over the course of a friendship and a life.
Praise For The Interestings: A Novel…
"Remarkable . . . [The Interestings's] inclusive vision and generous sweep place it among the ranks of books like Jonathan Franzen's Freedom and Jeffrey Eugenides The Marriage Plot. The Interestings is warm, all-American, and acutely perceptive about the feelings and motivations of its characters, male and female, young and old, gay and straight; but it's also stealthily, unassumingly, and undeniably a novel of ideas. . . . With this book [Wolitzer] has surpassed herself."—The New York Times Book Review

"A victory . . . The Interestings secures Wolitzer's place among the best novelists of her generation. . . . She's every bit as literary as Franzen or Eugenides. But the very human moments in her work hit you harder than the big ideas. This isn't women's fiction. It's everyone's."—Entertainment Weekly (A)

"The big questions asked by The Interestings are about what happened to the world (when, Jules wonders, did 'analyst' stop denoting Freud and start referring to finance?) and what happened to all that budding teenage talent. Might every privileged schoolchild have a bright future in dance or theater or glass blowing? Ms. Wolitzer hasn't got the answers, but she does have her characters mannerisms and attitudes down cold."—The New York Times

"I don't want to insult Meg Wolitzer by calling her sprawling, engrossing new novel, The Interestings, her most ambitious, because throughout her 30-year career of turning out well-observed, often very funny books at a steady pace, I have no doubt she has always been ambitious. . . . But "The Interestings" is exactly the kind of book that literary sorts who talk about ambitious works . . . are talking about. . . . Wolitzer is almost crushingly insightful; she doesn't just mine the contemporary mind, she seems to invade it."—San Francisco Chronicle

"A sprawling, marvelously inventive novel . . . ambitious and enormously entertaining."—The Washington Post

"A supremely engrossing, deeply knowing, genius-level enterprise . . . The novel is thick and thickly populated. And yet Wolitzer is brilliant at keeping the reader close by her side as she takes her story back and forth across time, in and out of multiple lives, and into the tangle of countless continuing, sometimes compromising, conversations."—Chicago Tribune

"Masterful, sweeping . . . Her clear gaze captures the intricacies of lasting friendship, enduring love, marital sacrifice, bitter squabbles, family secrets, parental angst and deep loss. Though the story hops back and forth in time, it is rarely confusing, frequently funny and always engaging. . . . A story that feels real and true and more than fulfills the promise of the title. It is interesting, yes, but also moving, compelling, fascinating, and rewarding."—Miami Herald

"Wolitzer has produced a novel that is big by at least a couple of clear measures—it's nearly 500 pages long, and it covers a lot of time and drama in the lives of a small circle of friends. . . . It's a small world in which these characters want to live large, and Wolitzer is wonderful at conveying that through the point of view of someone who doesn't even see it, all the while shading in the stuff that lives, big and small, are made of."—Minneapolis Star Tribune

"It's a ritual of childhood—that solemn vow never to lose touch, no matter what. And for six artsy teenagers whose lives unfold in Wolitzer's big-hearted, ambitious new novel, the vow holds for almost four decades."—People

"Readers may also enjoy comparing The Interestings with Claire Messud's The Emperor's Children . . . In probing the unpredictable relationship between early promise and success and the more dependable one between self-acceptance and happiness, Wolitzer's novel is not just a big book but a shrewd one."—Christian Science Monitor

"[The Interestings] soars, primarily because Wolitzer insists on taking our teenage selves seriously and, rather than coldly satirizing them, comes at them with warm humor and adult wisdom."—Elle

"In Meg Wolitzer's lovely, wise The Interestings, Julie Jacobson begins the summer of '74 as an outsider at arts camp until she is accepted into a clique of teenagers with whom she forms a lifelong bond. Through well-tuned drama and compassionate humor, Wolitzer chronicles the living organism that is friendship, and arcs it over the cours of more than thirty years."—O, the Oprah Magazine

"Wonderful."—Vanity Fair

"Juicy, perceptive and vividly written."—NPR.org

"A sprawling, ambitious and often wistful novel."—USA Today

"What becomes a legend most? or rather, who? Those with innate ability? Those blessed with enough beauty or money to indulge any creative whim? Or just those who want it the most? In The Interestings, Meg Wolitzer's quarry is ambition: what it means to have it, how to use it, how it's lost."—Time

"Best-selling novelist Meg Wolitzer specializes in witty, knowing takes on contemporary marriage, divorce, and relationships. Her ninth novel, The Interestings, is smart, nuanced, and fun to read, in part because of the effervescent evocation of New York City from Watergate to today, in part because of the idiosyncratic authenticity of her characters."—The Daily Beast

"You'll want to be friends with these characters long after you put down the book."—Marie Claire

"A page-turner."—Cosmopolitan

"[A] big, juicy novel . . . Wolitzer's finger is unerringly on the pulse of our social culture."—Readers Digest

"Meg Wolitzer kicks off her buzzy tenth novel in 1974 at a summer camp for artsy kids, where a tight-knit group of campers is plotting world domination. The result is a Franzen-like treatise on talent, fate, friendship, and the limits of all three."—V Magazine

"Breathtaking in its scope and a remarkably fun page-turner . . . "[Wolitzer's] social commentary on art, money and fame should have her compared to Tom Wolfe, but her work is much larger than that."—Matchbook

"[The Interestings is] so approachable one can almost miss the excellence and precision of its prose. . . . Ultimately The Interestings is absorbing and immensely likeable."—Nylon

"Like Virginia Woolf in The Waves, Meg Wolitzer gives us the full picture here, charting her characters' lives from the self-dramatizing of adolescence, through the resignation of middle age, to the attainment of a wisdom that holds all the intensities of life in a single, sustained chord, much like this book itself. The wit, intelligence, and deep feeling of Wolitzer's writing are extraordinary and The Interestings brings her achievement, already so steadfast and remarkable, to an even higher level."—Jeffrey Eugenides

"Wolitzer follows a group of friends from adolescence at an artsy summer camp in 1974 through adulthood and into late-middle age as their lives alternately intersect, diverge and reconnect. . . . Ambitious and involving, capturing the zeitgeist of the liberal intelligentsia of the era."—Kirkus (starred)
Riverhead Books, 9781594632341, 560pp.
Publication Date: March 25, 2014
About the Author
Meg Wolitzer is the New York Times bestselling author of The Interestings, The Uncoupling, The Ten-Year Nap, The Position, The Wife, and Sleepwalking. She is also the author of the young adult novel, Belzhar. Wolitzer lives in New York City.
Think about how talent is presented in the book. In your opinion, is it something you are born with or something you work hard to achieve? What is Meg Wolitzer saying about early talent? How is it important to future success? What roles do money and class play in fostering talent? Think about Jules and Ash. How does money influence the trajectories of their lives?
Jealousy is referred to in the book as being "I want what you have," whereas envy is "I want what you have, but I also want to take it away so you can't have it." Who is jealous in this book? Who is envious? Can jealousy become envy? How is envy tied up in issues like talent and money?
Single parents, lost parents, and absent parents play a role in this novel. In what ways do the families the characters were born into shape their futures? Ash and Goodman are the only characters to come from an intact nuclear family that is able to provide for all their needs. Do you think this is necessarily a good thing for Goodman? What about Ash?
Despite the well–quoted sentiment that "you can't go home again," Jules tries to return to the place that felt like her spiritual, emotional, and artistic home. Are there circumstances in life in which you can go home again successfully? Is Jules foolish to give up her current life for something much more uncertain? What positive changes does the experience bring?
Despite how much she wants to, Jules cannot make herself fall in love with Ethan. Do you wish she were able to? Do you think Jules wishes she could? What about Ethan?
Ethan is one of the most noble characters in the book, and yet he has trouble reconciling his son's condition and lies to Ash to avoid going to Mo's evaluation. How does Ethan's ambivalence about Mo change the way you feel about him? How do you feel about Jules's complicity in his deception?
The shift from the seventies to the eighties to the current moment is an important one depicted in the book. What do you think Meg Wolitzer is trying to say about art and how art is sold? How does the commoditization of art change the role of the artist? Was the art of the seventies as pure as it seemed to the creators? The Wunderlichs remain true to an even earlier version of what art should be. What are the positives of that vision? What are its limits?
What role does geography play in the book? Think about the different spaces and homes represented: Manhattan, Underhill, Spirit–in–the–Woods. What do they say about the people who live in them? Think about Jules's own feelings about her mother's home in Underhill compared with the Wolfs' home in Manhattan. What do those two spaces mean to her?