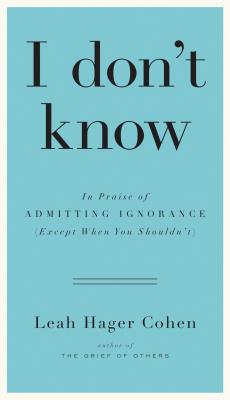 I don't know (Hardcover)
In Praise of Admitting Ignorance (Except When You Shouldn't)
Riverhead Books, 9781594632396, 128pp.
Publication Date: September 12, 2013
* Individual store prices may vary.
Description
A short, concise book in favor of honoring doubt and admitting when the answer is: I don't know.

From the acclaimed author of No Book but the World and 2019's searing new novel Strangers and Cousins.

In a tight, enlightening narrative, Leah Hager Cohen explores why, so often, we attempt to hide our ignorance, and why, in so many different areas, we would be better off coming clean. Weaving entertaining, anecdotal reporting with eye-opening research, she considers both the ramifications of and alternatives to this ubiquitous habit in arenas as varied as education, finance, medicine, politics, warfare, trial courts, and climate change. But it's more than just encouraging readers to confess their ignorance—Cohen proposes that we have much to gain by embracing uncertainty. Three little words can in fact liberate and empower, and increase the possibilities for true communication. So much becomes possible when we honor doubt.
About the Author
Leah Hager Cohen is the author of five novels, including The Grief of Others, which was long-listed for the Orange Prize, selected as a New York Times Notable Book, and named one of the best books of the year by the San Francisco Chronicle, Kirkus Reviews, and The Globe and Mail, and the forthcoming No Book but the World. She is also the author of four previous nonfiction titles, including Train Go Sorry. She is a frequent contributor to The New York Times Book Review.
Praise For I don't know: In Praise of Admitting Ignorance (Except When You Shouldn't)…
"A noted author's short but pointed meditation on the difficulty human beings have in admitting their own ignorance. . . . Drawing from a variety of scientific, linguistic, literary and philosophical sources, Cohen examines both the human urge to conceal ignorance and its ramifications. The anecdotes are both illuminating and disturbing, and they are from personal experience as well as from the many informal interviews she conducted with people from different walks of life. . . . Refreshingly wise and open-minded."—Kirkus
Coverage from NPR