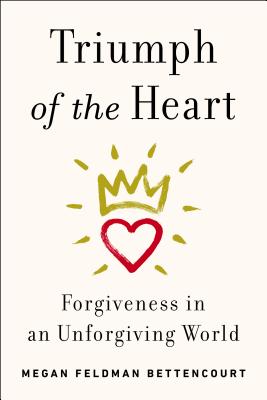 Triumph of the Heart
Forgiveness in an Unforgiving World
Hardcover

* Individual store prices may vary.
Other Editions of This Title:
Hardcover, Large Print (11/11/2015)
Paperback (8/9/2016)
Description
2016 Books For A Better Life Award winner

When Megan Feldman Bettencourt found herself embittered after a breakup and a string of professional setbacks, she met an extraordinary man named Azim. Azim had forgiven the man who killed his beloved only son, and even reached out to the killer's family.  He truly seemed to be at peace. 
 
As a veteran journalist, Megan recognized it for the amazing story it was. But as a self-admitted grudge-holder, she was perplexed. Was there something wrong with him, or was there something wrong with her? She wondered about our ability to forgive—why we have it at all, why we do it, and whether it can help us.
 
Triumph of the Heart is the story of Megan's quest to understand this complex concept, from both a scientific perspective and a human one. She draws on cutting-edge research showing that forgiveness can provide a range of health benefits, from relieving depression to decreasing high blood pressure. She examines situations as mundane as road rage, as painful as cheating spouses, and as unthinkable as war crimes. Through stories of people and even communities who have forgiven in the toughest of circumstances, she shows us how they're able to do it, the profound sense of freedom they feel afterward, and the evocative implications for peacemaking worldwide.
 
This journey takes Megan from recovered addicts who restarted their lives by seeking forgiveness, to a Baltimore principal who used forgiveness techniques to eradicate violence in her school, to genocide survivors in Rwanda who forgave the people who killed their families and perpetrators who are still trying to redeem themselves. 

Along the way, Megan strengthens her own powers of forgiveness, altering her life in ways she never expected. With grace and compassion, she reveals that our human capacity for forgiveness not only makes us healthier and happier, but is the key to healing, growing, and living well.
Praise For Triumph of the Heart: Forgiveness in an Unforgiving World…
2015 Favorite Book of UC Berkeley's Greater Good Science Center 
"Bettencourt recounts inspiring stories of forgiveness from around the world… She encourages us all to do a better job of forgiving others for slights experienced in everyday life, by practicing mindfulness, empathy, and compromise in conflict situations."
—The Greater Good Science Center

"I believe that it is vital for us all—both as individuals and as a society—to think deeply about the question of forgiveness and its power to transform. I delight in the amount of research that Megan Feldman Bettencourt has done here, and I welcome her book as an important contribution to our ongoing cultural conversation about this important topic. I hope it will lead many to reconsider their anger, their bitterness, and their resentments."
—Elizabeth Gilbert, #1 New York Times bestselling author of Eat, Pray, Love
 
"With stirring stories and serious science, this eloquent book left me questioning my core beliefs about forgiveness."
—Adam Grant, PhD, Wharton professor and New York Times bestselling author of Give and Take

"Triumph of the Heart skillfully explores forgiveness through many lenses. It is a compelling personal story interwoven with other narratives of forgiveness engagingly embedded in the research and science."
—Fred Luskin, PhD, director of the Stanford Forgiveness Projects and author of Forgive for Good
 
"Bravo to Megan Feldman Bettencourt for making forgiveness more accessible, and thus the healing of the world more near."
—Marianne Williamson, #1 New York Times bestselling author of A Return to Love
 
"Presenting scientific research alongside her own personal experiences, as well as fascinating insights into the stories and practices of others, Megan Feldman Bettencourt expertly demonstrates why forgiveness is so essential in our world today."
—Marina Cantacuzino, founder of The Forgiveness Project
Avery, 9781594632631, 288pp.
Publication Date: August 11, 2015
About the Author
Megan Feldman Bettencourt is an award-winning journalist whose work has appeared in magazines such as Glamour, Details, and Southwest: The Magazine, and in newspapers including Newsday and the Dallas Observer.  

She began her career as a Central America-based freelancer and holds a master's degree from the Columbia University Graduate School of Journalism in New York. She lives in Denver with her husband and son.
or
Not Currently Available for Direct Purchase