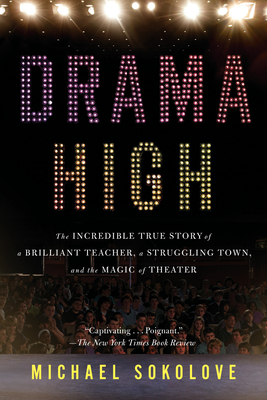 Drama High
The Incredible True Story of a Brilliant Teacher, a Struggling Town, and the Magic of Theater
Paperback

* Individual store prices may vary.
Other Editions of This Title:
Digital Audiobook (9/11/2017)
Hardcover (9/26/2013)
Library Binding, Large Print (4/1/2015)
Description
The inspiration for the NBC TV series "Rise," starring Josh Radnor, Auli'i Cravalho, and Rosie Perez — the incredible and true story of an extraordinary drama teacher who has changed the lives of thousands of students and inspired a town. By the author of The Last Temptation of Rick Pitino. 

Why would the multimillionaire producer of Cats, The Phantom of the Opera, and Miss Saigon take his limo from Manhattan to the struggling former steel town of Levittown, Pennsylvania, to see a high school production of Les Misérables?

To see the show performed by the astoundingly successful theater company at Harry S Truman High School, run by its legendary director, Lou Volpe. Broadway turns to Truman High when trying out controversial shows such as Rent and Spring Awakening before they move on to high school theater programs across the nation. Volpe's students from this blue-collar town go on to become Emmy-winning producers, entertainment executives, newscasters, and community-theater founders.

Michael Sokolove, a Levittown native and former student of Volpe's, chronicles the drama director's last school years and follows a group of student actors as they work through riveting dramas both on and off the stage. This is a story of an economically depressed but proud town finding hope in a gifted teacher and the magic of theater.
Praise For Drama High: The Incredible True Story of a Brilliant Teacher, a Struggling Town, and the Magic of Theater…
"Poignant...Captivating...[Sokolove] shines a heartening light on how one of those passionate heroes devoted himself...to educating, rather than training, young people."—The New York Times Book Review

"A good reporter can make almost any story interesting. A great reporter makes it blossom. With the kind of diligent, thorough and imaginative reporting not seen enough these days, Sokolove not only brings a teacher, his students and their community to life, he also opens the story to larger matters."—The Washington Post
 
"Sokolove's reporting tells an incredible tale about a brilliant, demanding and subversive teacher who practices the best kind of magic--the kind that's real and that changes lives. Drama High is both provocative and heart-warming...an excellent book for teachers or anyone interested in education and the power of theater. A gutsy high school English teacher might even recommend it to his or her students. "—USA Today
  
"Required reading: for young people who can learn more about the challenge and rewards of theatre, for parents who may well need the same background, for anyone who doubts the value of theatre as an educational and character-building activity not only for those who would become professionals, for those who want to spark reveries of their own experiences in high school drama....Imagine if all of Glee sustained the level of quality and heart that characterized the story lines between Kurt and his dad, and you'll get a closer approximation of what Drama High achieves."—The Huffington Post

"Sokolove sucks us in quickly....Drama High is a love letter to a brilliant educator and the crowd-pleasing tale of a quest for glory, but it's also an argument for arts education and a discussion of class."—Newsday

"An extraordinary book…a viscerally real reminder of the pain and excitement of being a teenager, an honest and compassionate discussion of class in America, a wondrous, lightning-in-a-bottle book."—Curtis Sittenfeld, author of Prep

"Part Glee, part Hoop Dreams, Drama High is a bravura performance, the true story of that teacher we all remember or wish we did, the one who pushes us to be better than we thought possible. You'll clap and cry at the end. Sokolove deserves a standing ovation."—Elizabeth Weil, author of No Cheating, No Dying

"What makes a great teacher—the kind who truly transforms lives? The answer lies between these covers, in Michael Sokolove's intimate portrait. This book ripples with emotion, with humor, with heart. Like a great performance, Drama High won't just move you. It will inspire you."—Jonathan Mahler, author of Ladies and Gentleman, the Bronx Is Burning
 
 
Praise for Michael Sokolove
 
"Sokolove is a natural literary stylist with the gifts of a social historian."—The New York Times
 
"A terrific read, made to work by Sokolove's insightful reporting and deft writing . . . a sad, powerful, thoughtful, totally engrossing work."—Chicago Tribune
 
"A narrative defined by its compassionate, clear-eyed tone." —Entertainment Weekly
 
"A first-class work of sound reporting."—Roger Angell, The New Yorker
Riverhead Books, 9781594632808, 368pp.
Publication Date: October 7, 2014
About the Author
Michael Sokolove is a contributing writer for The New York Times Magazine and the author of three previous books: The Ticket Out, Hustle, and Warrior Girls. He lives in Bethesda, Maryland.