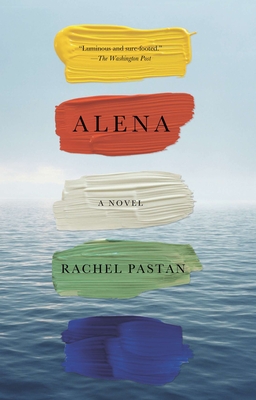 Alena (Paperback)
A Novel
Riverhead Books, 9781594632921, 368pp.
Publication Date: April 7, 2015
Other Editions of This Title:
Digital Audiobook (1/22/2014)
MP3 CD (1/23/2014)
Hardcover (1/23/2014)
Compact Disc (1/23/2014)
Compact Disc (1/23/2014)
* Individual store prices may vary.
Description
In an inspired restaging of Daphne du Maurier's classic Rebecca, a young curator finds herself haunted by the legacy of her predecessor.

Two years have passed since the tragic death of Alena, curator at the Nauk, a cutting-edge art museum on Cape Cod. At the Venice Biennale, Bernard Augustin, the Nauk's wealthy, enigmatic founder—to whom Alena had been closest confidante and muse—offers the position to an aspiring young curator from the Midwest. It's the job of her dreams, and she dives at the chance.

Just as quickly, she finds herself well out of her depth. The Nauk echoes with phantoms of the past—a past obsessively preserved by the museum's staff—and the newcomer's every move mires her more deeply in artistic, erotic, and emotional entanglements. When recently discovered evidence calls into question the circumstances of Alena's death, shattering secrets surface, putting to the test the loyalty, integrity, and courage of our heroine—who remains nameless, like the heroine of Daphne du Maurier's Rebecca, the inspiration for this provocative and spellbinding tale.
About the Author
Rachel Pastan is the author of two previous novels and has won numerous prizes for her short fiction. A member of the core faculty of the Bennington Writing Seminars, she is also editor-at-large for the Institute of Contemporary Art in Philadelphia. Pastan lives in Swarthmore, Pennsylvania.
Praise For Alena: A Novel…
"[A] faithful, patient reimagining of Daphne du Maurier's novel…The writing at times is so fine you wish this weren't a retold story…Alena is… a brilliant take-down of the self-serious art world, rendering it helplessly camp by sprinkling some of its august and/or provocative names….over this…pop-culture totem." –New York Times Book Review

"Luminous and sure-footed…The triumph of Pastan's story is that it manages to be more than a companion piece to du Maurier's. Alena proves itself an intriguing and substantial novel on its own merits, while still offering the kind of gothic plunge we remember and crave from our younger years." –The Washington Post

"Provocative and spellbinding...[the] ideal book to enjoy outside on a park bench, at the beach or under the hugging branches of an oak or willow tree." –Literary New England

"Perfect for curling up with on a winter's night … so eerie and elegantly suspenseful that I could see myself rereading it, the way I reread Rebecca every few years or so." –Maureen Corrigan, NPR Books

"This artful take on du Maurier's gothic classic Rebecca has its own surprise twists." –Good Housekeeping

"Pastan is gifted with sentient and lyrical writing, and she paints a scene exactly…For readers who love characterizations and language from fresh sources of inspiration, there is good reason to read this book." –Washington Independent Review of Books

"Like a good reproduction, Alena preserves important trademarks of the original art — creepy and claustrophobic."
–Entertainment Weekly

"One of the most delicious novels of the year....Alena is the rare book that stimulates the senses while allowing its readers to be seduced by the right kind of camp.. Books rarely are as dishy, clever and elusively charming as this one." –PopMatters

"With her evocative prose, Pastan matches the hothouse tension of Du Maurier's story while infusing "Alena" with its own hairpin twists and turns and devastating denouement… The result is a lyrical murder mystery that is just as tantalizing to those who have never read "Rebecca" as the many for whom it is a cherished classic." –The Brooklyn Eagle

"For people who love Rebecca, there are all kind of allusions and asides—names, locations and plot points. … But Alena stands on its own." –BookPage

"Pastan builds the tension and mystery with a steady, melancholic tone, entirely gorgeous and entirely her own." –Bustle

"Fans of Daphne du Maurier's timeless Rebecca will revel in this contemporary homage to her gothic masterpiece." --Booklist

"Riveting... Flush with erotic intrigues... Pastan has written a smart, chilling thriller that leaves readers thoroughly spooked." –Publishers Weekly

"This skillfully crafted novel, which sustains the tension of a ghost story, is both an homage to Daphne du Maurier's Rebecca and an insightful meditation on our obsessive preoccupation with death—simultaneously creepy and entrancing." –John Irving

"I was utterly captivated by this novel, as much by the beautifully evoked Cape Cod landscapes and the glimpses into the rarefied world of art as by the increasingly suspenseful mysteries at its center. Rachel Pastan is a marvelous storyteller." –Ann Packer, author of The Dive from Clausen's Pier and Swim Back to Me

"In this exquisite reimagining of a much-loved novel, Rachel Pastan weaves together a mystery, a love story, and a meditation on the nature of art." –Brian Morton, author of Starting Out in the Evening
or
Not Currently Available for Direct Purchase