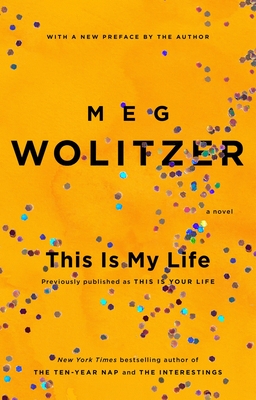 This Is My Life
Paperback

* Individual store prices may vary.
Description
The early novel that established Meg Wolitzer's career, later made into Nora Ephron's first film as a director.

The third book by New York Times-bestselling author Meg Wolitzer (originally published as This Is Your Life), a smart, witty and perceptive novel about the daughters of a female stand-up comic who watch as their mother struggles to balance her career with the needs of her children.

Dottie Engels, comedienne extraordinaire, performs her act in Vegas and on late-night TV.  Her two daughters, Opal and Erica, live on the periphery of her glittering life, seeing her on the television screen more often than they do at home.  But when Dottie's ratings begin to slide, it takes both her daughters to save Dottie from herself.

Displaying Wolitzer's signature style that combines keen observations, compassion for her characters, sharp humor, and a strong social hook, This Is My Life expertly captures the uncertainties of adolescence and the trials of growing up in the shadow of a mother who is caught between the conflicting pulls of fame and family.
Praise For This Is My Life…
"There is affection and humor in her voice, and combined with her strong storytelling talents, these qualities lend [This Is My Life] both authority and comic warmth."—Michiko Kakutani, The New York Times

Praise for Meg Wolitzer

"Wolitzer is as precise and rigorous an observer of social status as Tom Wolfe; she is as incisive and pitiless and clear-eyed a chronicler of female-male tandems as Philip Roth or John Updike. . . . She writes about life at eye level. . . . Wolitzer is terrific at depicting the ambiguity of modern family life, its murky choices and thorny dilemmas."—Chicago Tribune

"All of Wolitzer's characters are so articulate and insightful that it's a pleasure to listen to them think. . . . [Her] scenes are intensely observed and nuanced."—The Atlantic
Riverhead Books, 9781594633140, 352pp.
Publication Date: March 25, 2014
About the Author
Meg Wolitzer is the New York Times bestselling author of The Interestings, The Uncoupling, The Ten-Year Nap, The Position, The Wife, and Sleepwalking. She is also the author of the young adult novel, Belzhar. Wolitzer lives in New York City.