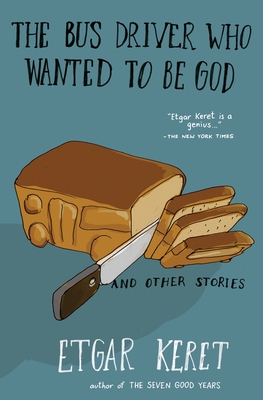 The Bus Driver Who Wanted To Be God & Other Stories (Paperback)
Riverhead Books, 9781594633249, 208pp.
Publication Date: October 13, 2015
Other Editions of This Title:
Digital Audiobook (10/12/2015)
Paperback (4/1/2004)
Hardcover (10/1/2001)
Paperback (9/1/2004)
* Individual store prices may vary.
Description
Classic warped and wonderful stories from a "genius" (The New York Times) and master storyteller.
 
Brief, intense, painfully funny, and shockingly honest, Etgar Keret's stories are snapshots that illuminate with intelligence and wit the hidden truths of life. As with the best writers of fiction, hilarity and anguish are the twin pillars of his work. Keret covers a remarkable emotional and narrative terrain—from a father's first lesson to his boy to a standoff between soldiers caught up in the Middle East conflict to a slice of life where nothing much happens.
 
New to Riverhead's list, these wildly inventive, uniquely humane stories are for fans of Etgar Keret's inimitable style and readers of transforming, brilliant fiction.
About the Author
Etgar Keret was born in Tel Aviv in 1967. He is a recipient of the French Chevalier de l'Ordre des Arts et des Lettres, a lecturer at Ben-Gurion University of the Negev, and the author, most recently, of the memoir The Seven Good Years and the story collection Suddenly, a Knock on the Door. His work has appeared in The New Yorker, The Wall Street Journal, The Paris Review, and The New York Times, among many other publications, and on "This American Life," where he is a regular contributor.
Praise For The Bus Driver Who Wanted To Be God & Other Stories…
Praise for The Bus Driver Who Wanted to be God

"One couldn't have hoped for a finer way to herald this major new voice in world literature." – San Francisco Chronicle

"Wonderfully surreal, laugh-out-loud-funny stories… all of them witty gems from a singular storyteller." – Elle

"Extraordinary" – The Boston Globe


Praise for Etgar Keret

"Etgar Keret is a genius..." — New York Times

"A brilliant writer...completely unlike any writer I know. The voice of the next generation." — Salman Rushdie

"One of my favorite Israeli writers." – John Green

"Etgar's stories are a reminder of that rude intangible that often goes unspoken in creative writing workshops: a great work of art is often just residual evidence of a great human soul.  There is sweetheartedness and wisdom and eloquence and transcendence in his stories because these virtues exist in abundance in Etgar himself… I am very happy that Etgar and his work are in the world, making things better." – George Saunders

"When I first read Etgar's stories, I wondered what was wrong with him -- had his mother smoked crack while pregnant? was he dropped on his head as an infant? -- until I met him, and grew to know him, and realized his problem was much worse than I had ever imagined: he is a terribly caring human being in a terribly uncaring universe. Basically, he's fucked." – Shalom Auslander

"Etgar Keret is #1 writer in Israel and #2 in my heart (after my dachshund Felix)." – Gary Shteyngart

"Etgar Keret's stories are funny, with tons of feeling, driving towards destinations you never see coming. They're written in the most unpretentious, chatty voice possible, but they're also weirdly poetic. They stick in your gut. You think about them for days." – Ira Glass, host and producer of "This American Life"

"Exhilarating… For Keret, the creative impulse resides not in a conscious devotion to the classic armature of fiction (character, plot, theme, etc.) but in an allegiance to the anarchic instigations of the subconscious. His best stories display a kind of irrepressible dream logic." – Steve Almond, New York Times

"Etgar Keret possesses an imagination not easily slotted into conventional literary categories. His very short stories might be described as Kafkaesque parables, magic-realist knock-knock jokes or sad kernels of cracked cosmic wisdom." – A.O. Scott, The New York Times

"[Keret's writing] testifies to the power of the surreal, the concise and the fantastic… [O]blique, breezy, seriocomic fantasies that defy encapsulation, categorization and even summary." – Washington Post

"It's astonishing what he can do in just two pages: go from funny to bizarre to touching to satiric to meta to surprising and surreal… [A] master storyteller, creating deep, tragic, funny, painful tales with scarcely more words than you've read in this review." – Carolyn Kellogg, Los Angeles Times