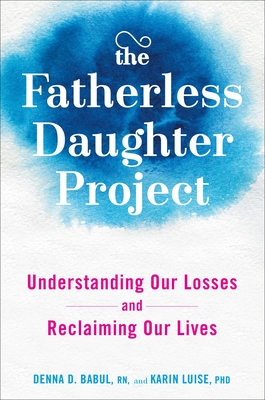 The Fatherless Daughter Project (Hardcover)
Understanding Our Losses and Reclaiming Our Lives
Avery, 9781594633690, 304pp.
Publication Date: June 7, 2016
* Individual store prices may vary.
Description
"This groundbreaking work will give voice to an enormous population of women who are struggling to understand themselves in the face of their fathers' absence." —Claire Bidwell Smith, author of The Rules of Inheritance and After This
 
When Motherless Daughters was published 20 years ago, it unleashed a tsunami of healing awareness. When Denna Babul and Karin Smithson couldn't find the equivalent book for fatherlessness, The Fatherless Daughter Project was born. The book will set fatherless women on the path to growth and fulfillment by helping them to understand how their loss has impacted their lives.
 
A father is supposed to provide a sense of security and stability. Losing a father comes with particular costs that vary depending on the way he left and how old a girl was when she lost him. Drawing on interviews with over 5000 women who became fatherless due to death, divorce, neglect, and outright abandonment, the authors have found that fatherless daughters tend to push their emotions underground.  These issues in turn become distinct patterns in their relationships as adult women and they often can't figure out why. Delivered with compassion and expertise, this book allows readers support and understanding they never had when they first needed it, and it encourages the conversation to continue.
About the Author
Denna D. Babul, R.N., is a successful life coach, Huff Post blogger, motivational speaker, writer, medical expert, and cofounder of the Fatherless Daughter Project. She has been featured on the Today show and Atlanta & Company. A fatherless daughter since the age of thirteen, Babul has found her calling in creating a community and support system for fellow fatherless women of all ages. Her focus is helping others learn how to transform a difficult past into a thriving future. She lives in Atlanta with her husband and two children.
 
Karin Luise, Ph.D., is a counselor, writer, educator, and inspirational speaker specializing in spirituality, women's issues, and holistic well-being. She is a regular blogger for The Huffington Post and has been featured on HuffPost Live, in USA Today, and in The Atlanta Journal-Constitution. Her passions include helping others find inner peace and life purpose. She resides in Atlanta with her three children and rescue dog, Tucker.
Praise For The Fatherless Daughter Project: Understanding Our Losses and Reclaiming Our Lives…
"With interesting personal stories woven throughout, fatherless daughters will find this to be a supportive and encouraging guidebook to reclaiming their lives and healing their wounds."
—Publishers Weekly
 
"This groundbreaking work will give voice to an enormous population of women who are struggling to understand themselves in the face of their fathers' absence. To be a woman without a father is to be unmoored in a world still dominated by men, and the impact of this particular loss has not been properly explored until now. This brilliant book provides solace and deep insight, and will give enormous comfort to any woman who has lost this important figure in her life."
—Claire Bidwell Smith, author of The Rules of Inheritance and After This