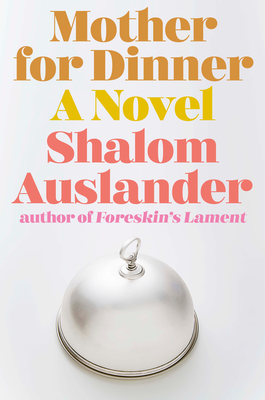 Mother for Dinner
A Novel
Hardcover

* Individual store prices may vary.
Other Editions of This Title:
Digital Audiobook (9/21/2020)
Description
By the author of Foreskin's Lament, a novel of identity, tribalism, and mothers.

Seventh Seltzer has done everything he can to break from the past, but in his overbearing, narcissistic mother's last moments he is drawn back into the life he left behind. At her deathbed, she whispers in his ear the two words he always knew she would: "Eat me."

This is not unusual, as the Seltzers are Cannibal-Americans, a once proud and thriving ethnic group, but for Seventh, it raises some serious questions, both practical and emotional. Of practical concern, his dead mother is six-foot-two and weighs about four hundred and fifty pounds. Even divided up between Seventh and his eleven brothers, that's a lot of red meat. Plus Second keeps kosher, Ninth is vegan, First hated her, and Sixth is dead. To make matters worse, even if he can wrangle his brothers together for a feast, the Can-Am people have assimilated, and the only living Cannibal who knows how to perform the ancient ritual is their Uncle Ishmael, whose erratic understanding of their traditions leads to conflict.

Seventh struggles with his mother's deathbed request. He never loved her, but the sense of guilt and responsibility he feels--to her and to his people and to his "unique cultural heritage"--is overwhelming. His mother always taught him he was a link in a chain, thousands of people long, stretching back hundreds of years. But, as his brother First says, he's getting tired of chains.

Irreverent and written with Auslander's incomparable humor, Mother for Dinner is an exploration of legacy, assimilation, the things we owe our families, and the things we owe ourselves.
Praise For Mother for Dinner: A Novel…
Praise for Mother for Dinner: 

"Maintaining tradition becomes all-consuming in Shalom Auslander's novel. . . Mother for Dinner . . .  turns a jaundiced eye toward ethnic identity and the burdens of tradition as they concern a different oppressed minority group. . .jokes are dependably good."--The Wall Street Journal

"Auslander uses his signature dark humor to brilliantly satirize tribalism in America… Graphic situations abound; even the characters are revolted, while, through their often ludicrous stories, Auslander explores the sense of otherness and the value of diversity. This could be a portrait of any ethnic group that has been consumed by America, though, in this case, it's unclear who is devouring whom."   --Booklist

"Auslander. . .turns his taboo-shattering satiric gaze to cannibalism in this outrageous, salty take on contemporary culture.. . [a] riotous dissection of cultural formation and a community's hunger for meaning. "--Publishers Weekly 



Riverhead Books, 9781594633720, 272pp.
Publication Date: September 22, 2020
About the Author
Shalom Auslander was raised in Monsey, New York. Nominated for the Koret Award for writers under thirty-five, he has published articles in Esquire, The New York Times Magazine, Tablet magazine, The New Yorker, and has had stories aired on NPR's This American Life. Auslander is the author of the short story collection Beware of God, the memoir Foreskin's Lament, and the novel Hope: A Tragedy. He is the creator of Showtime's Happyish. He lives in Los Angeles.