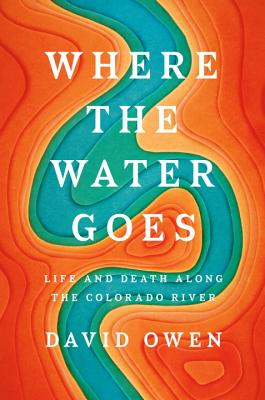 Where the Water Goes
Life and Death Along the Colorado River
Hardcover

* Individual store prices may vary.
Other Editions of This Title:
Digital Audiobook (4/10/2017)
Paperback (4/10/2018)
Description
An eye-opening account of where our water comes from and where it all goes.
The Colorado River is an essential resource for a surprisingly large part of the United States, and every gallon that flows down it is owned or claimed by someone. David Owen traces all that water from the Colorado's headwaters to its parched terminus, once a verdant wetland but now a million-acre desert. He takes readers on an adventure downriver, along a labyrinth of waterways, reservoirs, power plants, farms, fracking sites, ghost towns, and RV parks, to the spot near the U.S.–Mexico border where the river runs dry. 
Water problems in the western United States can seem tantalizingly easy to solve: just turn off the fountains at the Bellagio, stop selling hay to China, ban golf, cut down the almond trees, and kill all the lawyers. But a closer look reveals a vast man-made ecosystem that is far more complex and more interesting than the headlines let on.
The story Owen tells in Where the Water Goes is crucial to our future: how a patchwork of engineering marvels, byzantine legal agreements, aging infrastructure, and neighborly cooperation enables life to flourish in the desert —and the disastrous consequences we face when any part of this tenuous system fails.
Praise For Where the Water Goes: Life and Death Along the Colorado River…
"Owen has the keen observation of a birder combined with the breezy writing to draw you in with unusual insights. . . . As Owen shows, the Colorado River is a great, sad, terrifying, possibly hopeful example of the pervasive, permanent mark people are making on the planet." —The New York Times Book Review

"This wonderfully written book covers issue that will, or should, give you a headache. But it is a good headache, one that makes you a more informed person. Mr. Owen writes about water, but in these polarized times the lessons he shares spill into other arenas. The world of water rights and wrongs along the Colorado River offers hope for other problems." —Wall Street Journal

"Owen is effortlessly engaging, informally parceling out information about acre-foot allotments alongside sketches of notable, often dreadful figures in the river's history… Where the Water Goes doesn't pretend to solve the problems Owen acknowledges are overwhelming and, in some ways, impossible. It's a restless travelogue of long-term human impact on the natural world, and how politics and economics have as much to do with redirecting rivers as any canal. But with its historical eddies, policy asides, and trips to the Hoover Dam, at heart Where the Water Goes is about water as a function of time, and a reminder that we're running out of both." —NPR.org

"Where the Water Goes makes an eloquent argument for addressing the impact of human inhabitants on the natural world." —BBC.com

"Part road-trip documentary, part memoir, and part geopolitical and hydrology lesson, author David Owen's book follows the historical and geographic course of the river, the water it carries, and the lives that depend on it… [Owen] effectively describes the links between historic precedents, choices, and events that led the river and the millions of people who depend upon it to the present state." —Science Magazine

"The story Owen tells in Where the Water Goes is crucial to our future." —Boulder Daily Camera

"David Owen's new book, Where the Water Goes: Life and Death Along the Colorado River… handles its sprawling subject with deftness and quirkiness… Owen delves into the history and politics of the much-dammed, over-allocated river, as well as the arcana of Western water law and the weirdness of RV culture, without losing sight of larger questions about the sustainability of America's efforts to make the desert bloom." —Westword

"This gorgeous new book is a compelling and fascinating read about the Colorado River, a crucial water source for a surprisingly large portion of the United States. David Owen, with utmost elegance and wry wit, examines the river from headwaters to terminus and all the stops along the way." —BookPeople's Blog

"Mr. Owen owns our attention. We have a lot to learn, but this is not a textbook. Mr. Owen offers a detail-rich travelogue, an amalgam of memoir and journalism and history." —Wall Street Journal

"[A] revealing investigation of hydroecology in extremis. . . Rather than simply bemoan environmental degradation, Owen presents a deeper, more useful analysis of the subtle interplay between natural and human needs." —Publishers Weekly

"An essential read for not only the environmentally minded but also citizens who are curious about where their water comes from. Highly recommended." —Library Journal

"Owen offers a wealth of engrossing and often surprising details about the complicated nature of water rights, recreational usage (worth $26 billion a year), and depletion threats from climate change and the fracking industry. With water shortages looming across the globe, Owen's work provides invaluable lessons on the rewards and pitfalls involved in managing an essential natural resource." —Booklist

"It's a rare writer who can explain the inexplicable, but David Owen manages to do just that. Where the Water Goes is at once informative, entertaining, and unsparing—essential reading for anyone who cares about the American West." —Elizabeth Kolbert, author of The Sixth Extinction 

"Fascinating, thoughtful, and wise. David Owen is an extraordinarily gifted writer." —Bill Bryson, author of The Road to Little Dribbling and A Walk in the Woods

"An important work that brings the questions surrounding water use in the American Southwest forward to the era of climate change. With humor, an acute eye, and un-showy skill, Owen has written a book that deserves to stand with Marc Reisner's classic, Cadillac Desert." —Ian Frazier, author of Great Plains, On the Rez, and Hogs Wild

"I have traveled the American West all of my life and thought that I knew everything about its fabled water wars. But David Owen fills in so many gaps that I feel that I've been to water reeducation camp. Whether you read for fun, or edification, this is a gem." —Rinker Buck, author of The Oregon Trail: A New American Journey

Riverhead Books, 9781594633775, 288pp.
Publication Date: April 11, 2017
About the Author
David Owen is a staff writer for The New Yorker and the author more than a dozen books. He lives in northwest Connecticut with his wife, the writer Ann Hodgman.
or
Not Currently Available for Direct Purchase