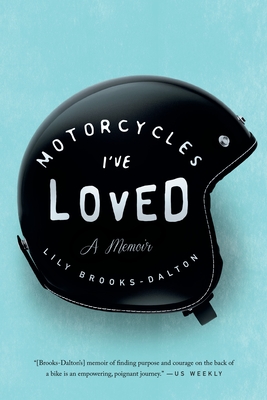 Motorcycles I've Loved
A Memoir
Paperback

* Individual store prices may vary.
Other Editions of This Title:
Hardcover (4/7/2015)
Description
"What the PCT is to Cheryl Strayed, the open road is to Brooks-Dalton."—Cosmopolitan 

A powerful memoir about a young woman whose passion for motorcycles leads her down a road all her own.

At twenty-one-years-old, Lily Brooks-Dalton is feeling lost; returning to New England after three and a half years traveling overseas, she finds herself unsettled, unattached, and without the drive to move forward. When a friend mentions buying a motorcycle, Brooks-Dalton is intrigued and inspired. Before long she is diving headlong into the world of gearheads, reconsidering her surroundings through the visor of a motorcycle helmet, and beginning a study of motion that will help her understand her own trajectory. Her love for these powerful machines starts as a diversion, but as she continues riding and maintaining her own motorcycles, she rediscovers herself, her history, and her momentum.

Forced to confront her limitations—new and old, real and imagined—Brooks-Dalton learns focus, patience, and how to navigate life on the road. As she builds confidence, both on her bike and off, she begins to find her way, ultimately undertaking an ambitious ride that leaves her strengthened, revitalized, and prepared for whatever comes next.

Honest and lyrical, raw and thoughtful, Motorcycles I've Loved is a bold portrait of one young woman's empowering journey of independence and determination.
Praise For Motorcycles I've Loved: A Memoir…
"What the PCT is to Cheryl Strayed, the open road is to Brooks-Dalton."
—
Cosmopolitan 


"A young woman of passion and…velocity, Brooks-Dalton has written a bright, brisk ode to her beloved two-wheelers."
—
Elle 


"Each chapter bears titles such as velocity, impulse, gravity and inertia, and Brooks-Dalton weaves a nuts-and-bolts primer on each into her narrative of learning to ride and care for a series of cycles… One hopes to see what this author's next adventure will produce."
—
The Boston Globe 

"[Brooks-Dalton's] memoir of finding purpose and courage on the back of a bike is an empowering, poignant journey." 
—
US Weekly
"Lily Brooks-Dalton is wonderful, fresh on the scene with a big heart, a fierce spirit, a writer's eye, and a lovely sense of humor."
–Anne Lamott
"Empowering."
–PopSugar
"Lily Brooks-Dalton has given us an honest and lovely memoir about learning to keep the shiny side up and the dirty side down. This is a book for seekers, wanderers, wayward souls, devotees of the open road, and anyone who loves being swept along by the performance of a beautiful writer at work."
—Philip Connors, author of
Fire Season: Field Notes from a Wilderness Lookout
"Like all great quest stories,
Motorcycles I've Loved
depicts a journey that demands the daring and determination to defy those voices (including our own) that try to tell us we're not cut out for the journey. Lily Brooks-Dalton has blazed a trail all her own, and the resulting memoir is as forthright as a well-worn leather motorcycle jacket, and as beautiful as a country road rolling out just up ahead."
—Rosie Schaap, author of
Drinking with Men


"Engaging."
—
Bust
"In her reflective prose, Brooks-Dalton captures the nearly mesmerizing quality of solitary, long-distance riding. She offers some useful tips on maintenance and repair, and overall she portrays a satisfying journey to a very American sense of selfhood and autonomy."
—
Publishers Weekly


"A scenic ride through the backcountry roads of being a woman in what is often considered a man's world."
—
Library Journal


"As [Brooks-Dalton] deepens her relationship with motorcycles through riding and then exploring their mechanics, she emerges as a confident storyteller, revealing a fascinating cast of catalysts, teachers, and idols. Even those who don't see the allure of motorcycles will find a compelling story here, especially younger readers who will likely see a glimmer of themselves in this quest for inner strength and identity."
—
Booklist 
 "[E]ngaging, informative, and enjoyable… Brooks-Dalton is clear and straight-talking as well as eloquent."
—New Hampshire Union Leader 

"This girl-powered memoir will leave you feeling like you can conquer the world."
—Brit + Co 

"Lily Brooks-Dalton is a writer with an innate curiosity for the world we live in, whether it's through words or traveling or science."
—Biographile

"[A] welcome respite from the male-centric storylines that dominate pop culture depictions of motorcycle-riding characters…a delight."
—The Riveter Magazine
Riverhead Books, 9781594634062, 256pp.
Publication Date: April 5, 2016
About the Author
Lily Brooks-Dalton was born and raised in southern Vermont. She is the author of the memoir, Motorcycles I've Loved, a finalist for the 2016 Oregon Book Award, and the forthcoming novel, Good Morning, Midnight.
or
Not Currently Available for Direct Purchase