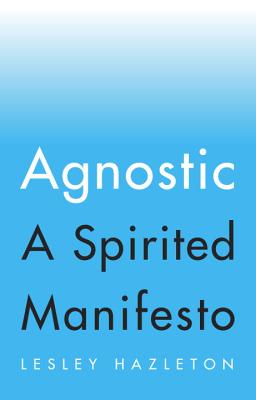 Agnostic
A Spirited Manifesto
Hardcover

* Individual store prices may vary.
Other Editions of This Title:
Digital Audiobook (4/4/2016)
Paperback (4/4/2017)
Description
"Vital" –The New York Times Book Review

"Provocative…[Hazleton] paddles the river of doubt with energy and exuberance." –The Seattle Times

A widely admired writer on religion celebrates agnosticism as the most vibrant, engaging—and ultimately the most honest—stance toward the mysteries of existence.

One in four Americans reject any affiliation with organized religion, and nearly half of those under thirty describe themselves as "spiritual but not religious." But as the airwaves resound with the haranguing of preachers and pundits, who speaks for the millions who find no joy in whittling the wonder of existence to a simple yes/no choice?

Lesley Hazleton does. In this provocative, brilliant book, she gives voice to the case for agnosticism, breaks it free of its stereotypes as watered-down atheism or amorphous "seeking," and celebrates it as a reasoned, revealing, and sustaining stance toward life. Stepping over the lines imposed by rigid conviction, she draws on philosophy, theology, psychology, science, and more to explore, with curiosity and passion, the vital role of mystery in a deceptively information-rich world; to ask what we mean by the search for meaning; to invoke the humbling yet elating perspective of infinity; to challenge received ideas about death; and to reconsider what "the soul" might be. Inspired and inspiring, Agnostic recasts the question of belief not as a problem to be solved but as an invitation to an ongoing, open-ended adventure of the mind.
Praise For Agnostic: A Spirited Manifesto…
"In Hazleton's vital, mischievous new book, the term [agnostic] represents a positive orientation towards life all its own, one that embraces both science and mystery, and values the immediate joys of life…In each of her wide-ranging reflections….she remains intimately grounded and engaged in our human, day-to-day life." –New York Times Book Review

"A beautiful, inquisitive, energetic 200-page tribute to uncertainty... that's about 50 times as charming as anything Sam Harris has ever written and 500 times more inspiring than any of Joel Osteen's books...You might give yourself windburn turning these pages." –Seattle Review of Books

"Provocative…[Hazleton] paddles the river of doubt with energy and exuberance." –Seattle Times

"Hazleton makes a compelling case for why agnosticism matters, and sets out a comprehensive and though-provoking definition of what it means. It's a powerful and deeply humanistic argument, told deftly through these pages." –Vol. 1 Brooklyn

"The title of Hazleton's "manifesto" on agnosticism is not a contradiction: she imbues the middle ground between belief and non-belief with spirit by showing that agnosticism itself is a disposition in favor of intellectual and emotional dexterity. A book that should be read as much by the believer (the religious or atheist) as anyone else." –Flavorwire, "A Must Read"

"A heady romp through the mind of an intellectual adventurer who relishes curiosity and questioning over the dubious comforts of dogma and certainty." –Seattle Met

 "To be agnostic is not to sidestep the question of belief, for Hazleton, or to commit to a wishy-washy moral framework. It is instead to have enough backbone to stand firm in the liminality of uncertainty. She wants readers to give agnosticism a fair shake, and many will be convinced by her appealing voice and accessible prose." –Publisher's Weekly (starred)

"Here, with clever elucidation, are artful essays that celebrate the wonder of the unknown… Hazleton does not deny possibilities; she denies only assured and implacable dogma." –Kirkus Reviews

"Personably persuasive … Informed by science, philosophy, literature, history, travel, hiking, and more, Hazleton's manifesto makes the suspension of conviction as attractive as any theist or atheist testament." –Booklist

"At last, a liberating antidote to the either/or thinking of the atheist/believer debate. Hazleton makes an impassioned and persuasive case for the insights–and joys–to be gained from a stance of not-knowing." –Reza Aslan, author of Zealot and No God but God
 
"It's a fraught enterprise to take on the big questions–God, meaning, mortality, existence–but Hazleton has done it here with remarkable aplomb, and in a singular voice devoid of pretension.  Her manifesto is, for me, a celebration–a welcome infusion of joy in an arena preponderantly inhabited by dogmatists." –David Guterson, author of Snow Falling on Cedars
 
"As a rabbi whose search for religious meaning is constantly renewed by doubt, I loved Lesley Hazelton's book.  It is vibrant, challenging, extremely interesting, funny and profound.  It is wise in its embrace of paradox, mystery and science." –Rabbi Rachel Cowan, Former Director of the Institute for Jewish Spirituality


Riverhead Books, 9781594634130, 224pp.
Publication Date: April 5, 2016
About the Author
Lesley Hazleton is an award-winning writer whose work focuses on the intersection of religion, history, and politics. She reported on the Middle East from Jerusalem for more than a dozen years, and has written for Time, The New York Times, The New York Review of Books, Harper's, The Nation, and The New Republic, among others. Her book After the Prophet was a finalist for a PEN Center USA Literary Award, and she is the recipient of The Stranger's Genius in Literature Award. Hazleton lives in Seattle.
or
Not Currently Available for Direct Purchase