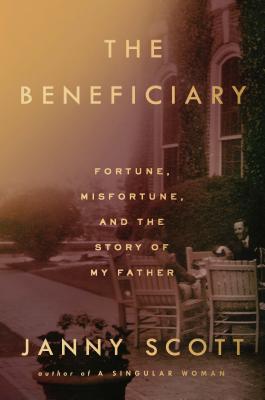 The Beneficiary
Fortune, Misfortune, and the Story of My Father
Hardcover

* Individual store prices may vary.
Other Editions of This Title:
Digital Audiobook (4/15/2019)
Paperback (4/14/2020)
Description
A NEW YORK TIMES NOTABLE BOOK OF THE YEAR

"[A] poignant addition to the literature of moneyed glamour and its inevitable tarnish and decay…like something out of Fitzgerald or Waugh."—The New Yorker

A parable for the new age of inequality: part family history, part detective story, part history of a vanishing class, and a vividly compelling exploration of the degree to which an inheritance—financial, cultural, genetic—conspired in one person's self-destruction.

Land, houses, and money tumbled from one generation to the next on the eight-hundred-acre estate built by Scott's investment banker great-grandfather on Philadelphia's Main Line. There was an obligation to protect it, a license to enjoy it, a duty to pass it on—but it was impossible to know in advance how all that extraordinary good fortune might influence the choices made over a lifetime. 

In this warmly felt tale of an American family's fortunes, journalist Janny Scott excavates the rarefied world that shaped her charming, unknowable father, Robert Montgomery Scott, and provides an incisive look at the weight of inheritance, the tenacity of addiction, and the power of buried secrets.

Some beneficiaries flourished, like Scott's grandmother, Helen Hope Scott, a socialite and celebrated horsewoman said to have inspired Katherine Hepburn's character in the play and Academy Award-winning film The Philadelphia Story. For others, including the author's father, she concludes, the impact was more complex.

Bringing her journalistic talents, light touch, and crystalline prose to this powerful story of a child's search to understand a parent's puzzling end, Scott also raises questions about our new Gilded Age. New fortunes are being amassed, new estates are being born. Does anyone wonder how it will all play out, one hundred years hence?
Praise For The Beneficiary: Fortune, Misfortune, and the Story of My Father…
Praise for The Beneficiary:

"Engrossing, lovely." — Jonathan Yardley, The Washington Post

"[The Beneficiary] could be the plot of an Edith Wharton or Henry James novel …[Janny Scott's] prose, too, has that Gilded Age feel: decadence, decay and drink waft gorgeously off the pages. Yet this study of privilege is also timely. . ." — The Wall Street Journal

"[THE BENEFEICIARY is] vivid and penetrating. . .A wise and poignant memoir about all the things money can buy—and all the things it can't." –Maureen Corrigan, Fresh Air

"Fascinating." — People

"Flair is in the DNA. As attentive to outré details as to psychological turmoil, Scott makes the most of the suspense built into her story. Her father, having promised Scott in her 20s that she would inherit his many diaries, made her hunt long and hard for them after his death in 2005. The bequest was brilliant: A man in unhappy thrall to a place lured his daughter further and further in—and she escaped with priceless insight into its, and his, hidden depths."—The Atlantic

"[A] fascinating and judicious book." –The New York Times Book Review

"[A] poignant addition to the literature of moneyed glamour and its inevitable tarnish and decay…like something out of Fitzgerald or Waugh."—The New Yorker

"Once in a while you read a biography that is crafted to sound like fiction. Janny Scott has pulled this off. And it is pitch perfect." –The Florida Times Union

"Told without false modesty or overweening privilege, Scott's story is a well-paced narrative punctuated with lyrical prose. This is a fascinating glimpse into a rarefied world."—Publishers Weekly

"Fascinating for the painful personal legacies it uncovers. At the same time, it is also compelling for the parallels it draws between an earlier age of inequality and our own and the questions it raises about how contemporary stories of new-rich families 'will play out, one hundred years hence.'"— Kirkus Review

"Compulsively readable . . . a rare combination of wit, empathy, candor, and shrewd sleuthing, [The Beneficiary] is a multigenerational story that encompasses the Gilded Age, great wealth and two World Wars, suicide and secret affairs, hidden diaries and the life-long impact of alcohol. The world of wealth and privilege Scott recreates so vividly may be hard for the rest of us to imagine, but everyone will recognize the flawed but fascinating human beings at its heart. Not to be missed." —Geoffrey C. Ward, author of the National Book Critics Circle Award–winning, Pulitzer Prize–finalist A First-Class Temperament: The Emergence of Franklin Roosevelt, 1905–1928
 
"Janny Scott writes with powerful love and no-nonsense honesty in equal parts. Her Philadelphia Main Line forebears come off as admirable, hilarious, sometimes awful, and sometimes heart-wrenching in their fates—immensely fun to read about and hard to categorize. This elegant memoir offers a vertiginous look at where our age of inequality might lead." —Ian Frazier, nationally bestselling author of Family and Great Plains
 
"Janny Scott set out to write a book about her father and his and her glamorous, eccentric, fabulously rich and spoiled forebears. She did so magnificently, but her book is more than a family saga. It is a detailed social history of a vanished era in our past, of a place and time quite unlike our own." —David Nasaw, New York Times bestselling author of The Patriarch: The Remarkable Life and Turbulent Times of Joseph P. Kennedy and Pulitzer Prize–finalist Andrew Carnegie
 
"A remarkable book . . . Scott, who has an eye for the telling detail, writes with wit and flair." —Frances FitzGerald, author of National Book Critics Circle Award–winning, National Book Award–finalist The Evangelicals: The Struggle to Shape America




Riverhead Books, 9781594634192, 288pp.
Publication Date: April 16, 2019
About the Author
Janny Scott is the author of A Singular Woman: The Untold Story of Barack Obama's Mother. She was a reporter for The New York Times from 1994 to 2009 and was a member of the Times reporting team that won the 2000 Pulitzer Prize for national reporting. Visit JannyScott.com to learn more.
Coverage from NPR
or
Not Currently Available for Direct Purchase