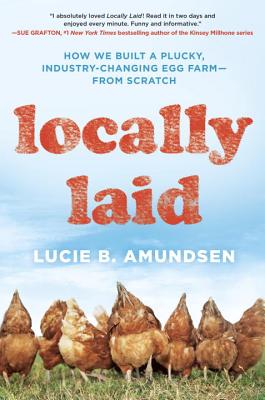 Locally Laid
How We Built a Plucky, Industry-changing Egg Farm - from Scratch
Hardcover

* Individual store prices may vary.
Other Editions of This Title:
Digital Audiobook (2/29/2016)
Paperback (2/28/2017)
Compact Disc (3/1/2016)
MP3 CD (3/1/2016)
Compact Disc (3/1/2016)
Description
How a Midwestern family with no agriculture experience went from a few backyard chickens to a full-fledged farm—and discovered why local chicks are better.

When Lucie Amundsen had a rare night out with her husband, she never imagined what he'd tell her over dinner—that his dream was to quit his office job (with benefits!) and start a commercial-scale pasture-raised egg farm. His entire agricultural experience consisted of raising five backyard hens, none of whom had yet laid a single egg.
 
To create this pastured poultry ranch, the couple scrambles to acquire nearly two thousand chickens—all named Lola. These hens, purchased commercially, arrive bereft of basic chicken-y instincts, such as the evening urge to roost. The newbie farmers also deal with their own shortcomings, making for a failed inspection and intense struggles to keep livestock alive (much less laying) during a brutal winter. But with a heavy dose of humor, they learn to negotiate the highly stressed no-man's-land known as Middle Agriculture. Amundsen sees firsthand how these midsized farms, situated between small-scale operations and mammoth factory farms, are vital to rebuilding America's local food system.
 
With an unexpected passion for this dubious enterprise, Amundsen shares a messy, wry, and entirely educational story of the unforeseen payoffs (and frequent pitfalls) of one couple's ag adventure—and many, many hours spent wrangling chickens.
Praise For Locally Laid: How We Built a Plucky, Industry-changing Egg Farm - from Scratch…
2016 Midwest Booksellers Choice Award Winner

"Written with candor, sarcasm and humor, Locally Laid is, to pluck a phrase from the book, an immersion into 'a loud, flustery poultry tsunami.'"
--NPR's The Salt

"I absolutely loved Locally Laid! Read it in two days and enjoyed every minute. Funny and informative."
--Sue Grafton, #1 bestselling author of the Kinsey Millhone series

"Witty and eye-opening, Locally Laid is a gem. I found myself rooting for this couple of lunatics who get into the egg business in the most unlikely of places, in the most unlikely of circumstances.  Lucie B. Amundsen, aka Bird, is utterly uninhibited and quite hilarious."
--Novella Carpenter, author of Farm City: The Education of an Urban Farmer

"Lucie Amundsen's refreshingly honest account of starting a mid-sized farm will resonate with any business owner. She brings the perfect measure of levity to her tale, keeping the reader laughing during even the most tense moments of this true-to-life story. Locally Laid is a plucky read worthy of a place on every eater's bookshelf!" 
--Anastasia Cole Plakias, founding partner of Brooklyn Grange and author of The Farm on the Roof
 
"As a 'remedial adult' with chickens, I heartily commend you to the words, wisdom and knowledge of Lucie B. Amundsen, an author whose voice is as earthy as a chicken run, as goofy and bright as a pasture-raised egg yolk at sunrise, and as down-to-earth as barn boots in mud. People ask me about chickens, I say, 'Read Lucie.'" 
--Michael Perry, author of Coop: A Year of Poultry, Pigs, and Parenting
 
"Locally Laid is as entertaining as it is thought-provoking.  With candor, humor, and a distinctly midwestern irreverence, Lucie B. Amundsen chronicles her family's earnest effort to bring some sanity back to the food system."
--Liz Carlisle, author of Lentil Underground
 
"I laughed, cried, and said "Amen" during this roller-coaster pastured poultry farm start-up memoir. Locally Laid is a perfect example of why farm apprenticeships are so important. Seldom will nonfiction keep you from going to bed at night:  Locally Laid will definitely keep you up!" 
--Joel Salatin, author of You Can Farm: The Entrepreneur's Guide to Start & Succeed in a Farming Enterprise
Avery, 9781594634222, 336pp.
Publication Date: March 1, 2016
About the Author
Lucie Amundsen is a writer, marketer, and reluctant farmer. She co-owns Locally Laid Egg Company, a farm that provides pasture-raised eggs in Minnesota, Iowa, and Indiana. She sits on the Hartley Nature Center board and is an active volunteer with Duluth Community Gardening Program. Amundsen also holds a master's of fine arts in writing from Hamline University. A former contributor to the Minneapolis Star Tribune and former editor at Reader's Digest Association, Amundsen has written for scores of publications during her freelance career. She lives with her husband and two children in Duluth, Minnesota.
or
Not Currently Available for Direct Purchase