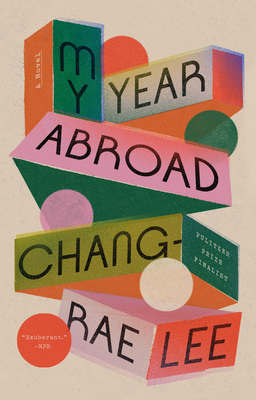 My Year Abroad
A Novel
Paperback

* Individual store prices may vary.
Other Editions of This Title:
Digital Audiobook (2/1/2021)
Hardcover (2/2/2021)
Paperback, Large Print (3/2/2021)
Description
INSTANT NATIONAL BESTSELLER

A New York Times Notable Book * Named a Best Book of the Year by Vogue, TIME, and Marie Claire

"A manifesto to happiness—the one found when you stop running from who you are." –New York Times Book Review

"An extraordinary book, acrobatic on the level of the sentence, symphonic across its many movements—and this is a book that moves…My Year Abroad is a wild ride—a caper, a romance, a bildungsroman, and something of a satire of how to get filthy rich in rising Asia." – Vogue

From the award-winning author of Native Speaker and On Such a Full Sea, an exuberant, provocative story about a young American life transformed by an unusual Asian adventure – and about the human capacities for pleasure, pain, and connection.
 
Tiller is an average American college student with a good heart but minimal aspirations. Pong Lou is a larger-than-life, wildly creative Chinese American entrepreneur who sees something intriguing in Tiller beyond his bored exterior and takes him under his wing. When Pong brings him along on a boisterous trip across Asia, Tiller is catapulted from ordinary young man to talented protégé, and pulled into a series of ever more extreme and eye-opening experiences that transform his view of the world, of Pong, and of himself. 
 
In the breathtaking, "precise, elliptical prose" that Chang-rae Lee is known for (The New York Times), the narrative alternates between Tiller's outlandish, mind-boggling year with Pong and the strange, riveting, emotionally complex domestic life that follows it, as Tiller processes what happened to him abroad and what it means for his future. Rich with commentary on Western attitudes, Eastern stereotypes, capitalism, global trade, mental health, parenthood, mentorship, and more, My Year Abroad is also an exploration of the surprising effects of cultural immersion—on a young American in Asia, on a Chinese man in America, and on an unlikely couple hiding out in the suburbs. Tinged at once with humor and darkness, electric with its accumulating surprises and suspense, My Year Abroad is a novel that only Chang-rae Lee could have written, and one that will be read and discussed for years to come.
Praise For My Year Abroad: A Novel…
Praise for My Year Abroad: 

"A wild tale that moves coolly between satire and thriller . . . . Lee tells a story of what it means to be plucked from darkness into the light of recognition, and in doing so, explores the fundamental human desires to be seen and to love." —The Washington Post

"A wild-ride picaresque, wisecracking, funny, ambitious, full of sex and danger." —The New York Times Book Review

"Exuberant . . . Lee's writing style, as usual, is alive with wit and satiric social commentary… boisterous and fun." —NPR, Fresh Air

"My Year Abroad is an extraordinary book, acrobatic on the level of the sentence, symphonic across its many movements—and this is a book that moves. . . . My Year Abroad is a wild ride—a caper, a romance, a bildungsroman, and something of a satire of how to get filthy rich in rising Asia." —Vogue.com

"A moving saga about family and loss, embedded in what reads like a romp. Ultimately, Lee has succeeded in creating that rare type of novel, one which is both sneakily profound and a blast to read." —San Francisco Chronicle

"Dickens meets globalism in this new work from one of our most celebrated writers." —OprahDaily.com

"Chang-rae Lee's new global adventure is his most essentially American novel. . . . Long preoccupied with the ways identity holds people back, Lee now seems to want to write about how those things open us up, for good or ill." —Los Angeles Times 

"Chang-rae Lee's propulsive dark comedy re-creates a Dantean descent into a globalism teetering on disaster. . . . a pulse-raising page-turner, with dazzling moments and a Saunders-esque riot of marketing gimmicks and junk food." —Star Tribune

"Reading My Year Abroad feels like watching a master juggler at work; Lee, the author of five other novels, highlights his accomplished literary skills within this kaleidoscopic, dynamic narrative." —Electric Literature

"A syncopated surprise, with an ending that will be sure to leave you texting all your friends." —NYMag.com/Vulture

"Chang-rae Lee's latest novel is about much more than a wild adventure abroad. . . . It's an energetic but tender exploration of cultural immersion, ambition and pleasure that takes many unexpected turns." —Time.com

"Equal parts insightful, suspenseful and darkly funny." —PureWow

"Tinged with dark humor and rich with commentary." —Fortune.com

"A riotously funny, bizarre, brilliant novel." —Medium

"Chang-rae Lee's electric new novel has the kind of kinetic energy that makes reading it feel like a full body experience, leaving you wondering and in awe of where exactly it will take you next. . . . a virtuosic, wildly original book—one that cements Lee's status as one of the most exciting writers working today." —Refinery29
 
"By turns dark, humorous and almost sneakily insightful." —GoodHousekeeping.com

"My Year Abroad is a strange and stirring amalgam: a tender novel about business, ambition, and appetite. With great generosity, and in a searching, democratic spirit, Chang-rae Lee describes the enticements, mirages, pleasures and catastrophes that attend not only the pursuit of wealth but the pursuit of happiness in all its forms, romantic, domestic, and, yes, gustatory.  In Pong Lou, he has given American literature a character who deserves his place among other tragic dreamers, from Gatsby to J.R." —Jeffrey Eugenides, Pulitzer Prize–winning author of Middlesex

"For a quarter century now, from book to book, [Chang-rae Lee] has explored the ever-urgent themes of alienation, assimilation, and identity with unmatched assurance and acuity. He has redefined not only what it means to be American, but the fabric of the Great American Novel itself." —Jhumpa Lahiri, Pulitzer Prize–winning author of Interpreter of Maladies

"My Year Abroad is a novel of astonishing wit and wisdom and scope, a globe-spanning story about those powerful first youthful encounters with love and evil and heartbreak and beauty. It's also, by the way, enormously fun to read. Chang-rae Lee is, clearly, a master." —Nathan Hill, The New York Times–bestselling author of The Nix

"[A] wildly inventive comic novel . . . Chang-rae Lee has written a surprising, spirited, keenly observed novel, full of the crazy and the profound." —BookPage, (starred review)

"Lee is supreme, and this high-velocity, shocking, and wise novel, avidly promoted, is emitting an irresistible magnetic force." —Booklist, (starred review)

"Lee is masterful from passage to passage. . . . A sage study in how readily we're undone by our appetites." —Kirkus Reviews

"This literary whirlwind has Lee running on all cylinders." —Publishers Weekly, (starred review)
Riverhead Books, 9781594634581, 496pp.
Publication Date: February 1, 2022
About the Author
Chang-rae Lee is the author of Native Speaker, winner of the Hemingway Foundation/PEN Award for first fiction, as well as My Year Abroad, On Such a Full Sea, A Gesture Life, Aloft, and The Surrendered, winner of the Dayton Peace Prize and a finalist for the Pulitzer Prize. A 2021 winner of the Award of Merit for the Novel from the American Academy of Arts and Letters, Chang-rae Lee teaches writing at Stanford University.