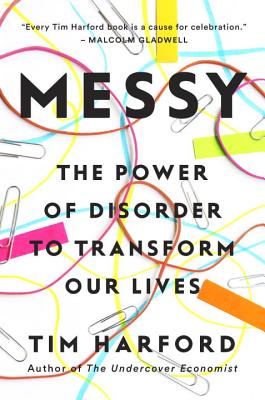 Messy
The Power of Disorder to Transform Our Lives
Hardcover

* Individual store prices may vary.
Other Editions of This Title:
Digital Audiobook (10/3/2016)
Paperback (10/3/2017)
Description
"Utterly fascinating. Tim Harford shows that if you want to be creative and resilient, you need a little more disorder in your world." —Adam Grant, New York Times-bestselling author of Originals and Give and Take

"Engrossing." —New York Times

From the award-winning columnist and author of the national bestseller The Undercover Economist comes a provocative big idea book about the genuine benefits of being messy: at home, at work, in the classroom, and beyond.

Look out for Tim's next book, Fifty Inventions That Shaped the Modern Economy.

Messy: The Power of Disorder to Transform Our Lives celebrates the benefits that messiness has in our lives: why it's important, why we resist it, and why we should embrace it instead. Using research from neuroscience, psychology, social science, as well as captivating examples of real people doing extraordinary things, Tim Harford explains that the human qualities we value – creativity, responsiveness, resilience – are integral to the disorder, confusion, and disarray that produce them.

From the music studio of Brian Eno to the Lincoln Memorial with Martin Luther King, Jr., from the board room to the classroom, messiness lies at the core of how we innovate, how we achieve, how we reach each other – in short, how we succeed.

In Messy, you'll learn about the unexpected connections between creativity and mess; understand why unexpected changes of plans, unfamiliar people, and unforeseen events can help generate new ideas and opportunities as they make you anxious and angry; and come to appreciate that the human inclination for tidiness – in our personal and professional lives, online, even in children's play – can mask deep and debilitating fragility that keep us from innovation.

Stimulating and readable as it points exciting ways forward, Messy is an insightful exploration of the real advantages of mess in our lives.
Praise For Messy: The Power of Disorder to Transform Our Lives…
"Harford's argument goes beyond aesthetics, resurfacing over and over in his engrossing narrative." —The New York Times Book Review

"Utterly fascinating. Tim Harford shows that if you want to be creative and resilient, you need a little more disorder in your world. It's a masterful case for the life-changing magic of cluttering up." —Adam Grant, New York Times-bestselling author of Originals and Give and Take

"[Messy] goes beyond the well-worn discussion over messy desks as a sign of creativity. . . Rather, he tackles the notion more conceptually, examining why rigid targets can wreak havoc, how unpredictable leaders get ahead, and when flexibility and improvisation matter more." —The Washington Post

"Masterful." —The Economist

"Messy is neither a broadside at Marie Kondo and her cult of minimalism nor a case for the hidden virtues of hoarding. Harford, an acclaimed economics journalist, isn't so much extolling squalor as questioning the notion that order is inherently preferable for creative endeavors." —Time

"[Messy] plays to Harford's prodigious strengths: the ability to tell engrossing human stories, and the ability to use those stories to convey complex, statistical ideas that make your life better." —Boing Boing

"It's a very, very good book, full of wise counter-intuitions and clever insights." —Brian Eno, musician and record producer

"A book that presents itself as an impossibly simple account of the virtues of a messy workspace, then builds to something extraordinary." —The Age

"This absorbing book offers a different approach from instructional decluttering manuals by celebrating the successes derived from the unplanned, unscripted, and unknown." —Library Journal

"Weaving together lessons from history, art, technology, and social and scientific research, Harford's theories have many potential benefits for individuals and businesses seeking to remain on the creative cutting edge, as well as profound implications for society." —Publishers Weekly

"Harford presents the strategies of disorganization as unique and enlightening and convincingly offers reinforced encouragement to those who may find themselves 'tempted by tidiness' to instead 'embrace some mess instead.'" —Kirkus

"Ranging expertly across business, politics and the arts, Tim Harford makes a compelling case for the creative benefits of disorganization, improvisation and confusion. His liberating message: you'll be more successful if you stop struggling so hard to plan or control your success. Messy is a deeply researched, endlessly eye-opening adventure." —Oliver Burkeman, author of The Antidote: Happiness for People Who Can't Stand Positive Thinking

"Tim's best and deepest book." —Tyler Cowen, New York Times-bestselling author of Average Is Over

Praise for Tim Harford

"Every Tim Harford book is a cause for celebration." —Malcolm Gladwell

"One of the best writers who also happens to be an economist." —Stephen Dubner
Riverhead Books, 9781594634796, 304pp.
Publication Date: October 4, 2016
About the Author
Tim Harford is an award-winning journalist, economist and broadcaster. He's the author of the bestselling The Undercover Economist, The Undercover Economist Strikes Back, Adapt, and The Logic of Life. Harford is currently a senior columnist at the Financial Times and host of the BBC Radio 4 program More or Less. He has been named Economics Commentator of the Year (2014), won the Rybczynski Prize (2014–15) for the best business-relevant economics writing, and won the Bastiat Prize for economic journalism (2006). He's a visiting fellow of Nuffield College at Oxford University and lives in Oxford with his family.
Coverage from NPR
or
Not Currently Available for Direct Purchase