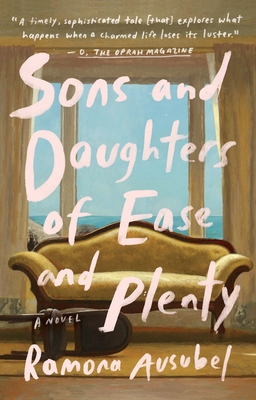 Sons and Daughters of Ease and Plenty (Paperback)
A Novel
Riverhead Books, 9781594634895, 336pp.
Publication Date: June 13, 2017
* Individual store prices may vary.
About the Author
Ramona Ausubel is the author of the novel No One Is Here Except All of Us, winner of the PEN Center USA Fiction Award and the VCU Cabell First Novel Award, and finalist for the New York Public Library's Young Lions Fiction Award. She is also the author of the story collections Awayland and A Guide to Being Born, and has been published in The New Yorker, One Story, The Paris Review Daily, and Best American Fantasy. 
Praise For Sons and Daughters of Ease and Plenty: A Novel…
"Weird and wonderful. . . Ausubel's writing, melancholy and fine, shines in illuminating everyday scenes of life. . . Even the throwaway details are terrific." —The New York Times

"Diffuse and elegiac." —The New Yorker

"Empty bank accounts. Goods taken for granted now gone. A familial fall from grace. An end to stability. Sons and Daughters of Ease and Plenty is this summer's much-raved about new release, and with good reason. Pick this up if you want an imaginative read with a dash of drama and some deep insight on wealth and class in America."  —USA Today

"It's not easy to make the travails of one-percenters sympathetic to the Costco-shopping rest of us, but if there's a novelist up to the task of charming a reader into submission, it's Ramona Ausubel, who writes heartfelt, quirky fiction with winsome prose." —Los Angeles Times

"Ramona Ausubel's sparkling second novel, Sons and Daughters of Ease and Plenty, is packed with wisdoms. . . [this] glorious work will surely confirm her as a vibrant, memorable voice in contemporary American letters." —The San Francisco Chronicle

"Ausubel's characters steer her bold and absorbing novel and keep us emotionally invested in their foibles, ideals and desires." —Minneapolis Star Tribune

"Devilishly imaginative." —Vanity Fair

"Ausubel charts the unfolding crisis with tenderness, wit and a sly understanding of wealth and its limitations." –People

"Ausubel's often whimsical prose is in top form yet again as she imbues the story with her signature touch of magic. This one's just lovely." —Elle

"A timely, sophisticated tale [that] explores what happens when a charmed life loses its luster." —O Magazine

"A wealthy family loses, quite suddenly, its fortune. And with the money goes the decorum. What drama ensues is in the pleasure of reading Ausubel's lyrical prose." —Travel and Leisure

"'There's no more money.'" This stark discovery by a golden couple triggers a series of funny, touching adventures. . . Set in the anything-goes '70s, this story inspires surprising happiness." —Good Housekeeping

"Ausubel's imaginative narrative makes for a compelling modern day fairytale." —Real Simple

"Full of wisdom and wonderfully meditative insights on wealth and class in America, Sons and Daughters of Ease and Plenty is both highly imaginative and philosophical in scope." —Refinery29

"Follows what happens when everything you took for granted suddenly, dramatically, no longer exists." —HelloGiggles

"What happens when a family who has it all loses it all? That's what we learn in this excellent novel about a Waspy clan whose fortune disappears suddenly, forcing them to figure out how to live without. It's deeply human and surprisingly sympathetic."  —PureWow

"[An] ideal summer novel." –BookPage 

"After a financial upending levels a family's sunny life, their individual journeys wrest them farther away from each other and deeper into the heart of the reader. Ramona Ausubel, easily one of the most inventive writers around, chronicles their odyssey with prodigious tenderness and nimble magic. Sons and Daughters of Ease and Plenty is a wild wonder of a novel." —Laura van den Berg, author of The Isle of Youth and Find Me

"This is the book about class and love that I've been waiting for. A riches-to-rags story with all the twists and unraveling you could want, embroidered divine in the wizardy mind of Ramona Ausubel, whose imagination and music are simply peerless. A gorgeous and moving must-read!" —Claire Vaye Watkins, author of Gold, Fame, Citrus and Battleborn

"Ramona Ausubel has given us a brilliantly imagined novel about family and fortune and the hidden knots between. You're holding a book brimming with life by an author bursting with talent." —Maggie Shipstead, author of Seating Arrangements and Astonish Me

"With characters this memorable, the pages almost turn themselves." —Publishers Weekly

"Fortunes and hearts are lost and found in a modern fairy tale set in the 1960s and '70s . . . Ausubel's magical, engrossing prose style perfectly fits this magical, engrossing story." —Kirkus(starred review)

"Ausubel offers a piercing view of the subtleties of class and privilege and what happens when things go awry." —Booklist