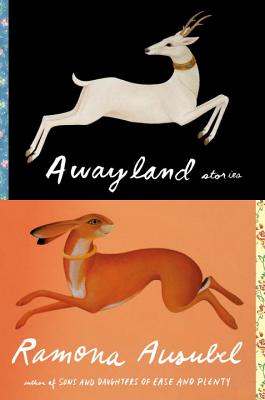 Awayland (Hardcover)
Stories
Riverhead Books, 9781594634901, 240pp.
Publication Date: March 6, 2018
Other Editions of This Title:
Digital Audiobook (3/5/2018)
Paperback (3/5/2019)
* Individual store prices may vary.
Description
 
"Excellent and peculiar… Ausubel's imagination…wants to offer consolation for how ghastly things can get, a type of healing that only reading can provide. All 11 of these stories are deeply involving." –New York Times Book Review

"Funny, endearing short stories…Each tale looks to the future in its own particular, touching way." –Harper's Bazaar

An inventive story collection that spans the globe as it explores love, childhood, and parenthood with an electric mix of humor and emotion.

Acclaimed for the grace, wit, and magic of her novels, Ramona Ausubel introduces us to a geography both fantastic and familiar in eleven new stories, some of them previously published in The New Yorker and The Paris Review. Elegantly structured, these stories span the globe and beyond, from small-town America and sunny Caribbean islands to the Arctic Ocean and the very gates of Heaven itself. And though some of the stories are steeped in mythology, they remain grounded in universal experiences: loss of identity, leaving home, parenthood, joy, and longing.

Crisscrossing the pages of Awayland are travelers and expats, shadows and ghosts. A girl watches as her homesick mother slowly dissolves into literal mist. The mayor of a small Midwestern town offers a strange prize, for stranger reasons, to the parents of any baby born on Lenin's birthday. A chef bound for Mars begins an even more treacherous journey much closer to home. And a lonely heart searches for love online--never mind that he's a Cyclops. 

With her signature tenderness, Ramona Ausubel applies a mapmaker's eye to landscapes both real and imagined, all the while providing a keen guide to the wild, uncharted terrain of the human heart.
About the Author
Ramona Ausubel is a graduate of the MFA program at the University of California, Irvine. She is the author of the novel No One Is Here Except All of Us and the short story collection A Guide to Being Born. Her work has been published in The New Yorker, One Story, The Paris Review Daily, Best American Fantasy, and elsewhere, and has received special mentions in The Best American Short Stories and The Best American Nonrequired Reading. She has been longlisted for the Frank O'Connor International Short Story Award, and was a finalist for the New York Public Library Young Lions Award and the Pushcart Prize.
Praise For Awayland: Stories…
 
"Excellent and peculiar … Ausubel's imagination … wants to offer consolation for how ghastly things can get, a type of healing that only reading can provide. All 11 of these stories are deeply involving." –New York Times Book Review

"Anxious, whimsical, and deeply felt, Ausubel's stories weave a remarkable and beautiful tapestry of emotion... Ausubel's signature ability to create atmosphere is in full force throughout Awayland, and the surreal or discomfiting moods sometimes wrapped around the stories are fitting for characters moving away from their comfort zones. By also touching upon social and political issues, she adds a new layer to her work that invites readers to move away from their comfort zones as well." –Los Angeles Review of Books

"A stunning assemblage of quasi-magical yet bewilderingly plausible tales … Every story here pretty much astounds for its daring, visionary scope and compassion." –San Francisco Chronicle

"[Ausubel] imbues every one of her offbeat yarns...with weirdness and warmth." –O, The Oprah Magazine

"[A] collection of funny, endearing short stories…Each tale looks to the future in its own particular, touching way." –Harper's Bazaar

"A tenderly imagined story collection, one that traverses small towns and tropical islands, all the while revealing truths about parenthood, love, and growing up that you didn't know you needed to hear, but are so immensely glad you did." –Southern Living

"Fans of [Ramona Ausubel] and new readers alike will discover something to enjoy in Awayland… An eclectic, humorous mix." –Real Simple

"To read an Ausubel story is to escape to another place…[her] prose is assured and...lovely, descriptions and insights presented in new and different ways." –Ploughshares

"A darkness, an underlying and beautiful darkness, limns practically every moment in Ausubel's work, but you hardly notice the darkness while reading, so dreamily enchanted are you by Ausubel's language, her humor, her generosity on the page." –Manuel Gonzales, Electric Literature

"Tender and heartfelt, Awayland is often also as funny as it is emotionally affecting." –Buzzfeed

"The precise word for the stories in Awayland is enchanting… What remains consistent in this globetrotting collection is Ausubel's wit, and her tenderness, and her commitment to exploring universal quandaries in fabulist ways. Each of these stories shines." –Refinery29

"The stories in Ramona Ausubel's Awayland are galactic in scope, massive in scale, and universal in their flawless execution. From Mars to the streets of the Midwest, Ausubel tackles modern mythology in a way that is utterly original and endlessly fascinating—and, at the end of the day, it just might teach you something about yourself." –Popsugar

"When a book opens with a Cyclops filling out an online dating profile, you know the collection of stories will not disappoint. Ausubel's stories mix familiarity with weirdness, leaving room for concrete concepts we understand (family, love, finding home) to mix with more off-kilter themes, like ghosts and space travel, to create an exciting and heartwarming volume of stories." –Apartment Therapy

"Insightful and tender and just fun to read. I love these stories." –BookRiot

"Few story collections in recent memory have been as simultaneously funny, sad and peculiar as Ramona Ausubel's breathtaking Awayland… Playful yet affecting, Awayland is the vibrant work of a gifted storyteller." –Shelf Awareness
 
"With touches of magic and fabulism, this is Ausubel at her finest." –Read It Forward

"[Ausubel's] writing is acrobatic: colorful, flexible and inventive…Formally and thematically, this creative collection will be a rewarding expedition for both veteran short story readers and newcomers to the genre." –The Riveter

"Ramona Ausbel's second short story collection continues to prove her a surprising, funny, and deft fabulist." –B&N Reads

"Told in prose at once spare and image-laden, the stories are illuminating and memorable, with plots unfolding like exotic flowers, calm yet bizarre." –Library Journal, starred review

"Everyday worries about pregnancy, mortality, and parents are given fantastical treatment in these playful stories… Ausubel's best stories have an affecting vulnerability; fans of Kelly Link, Karen Russell, and Miranda July will want to give this a look." –Publishers Weekly

"Eleven stories laced with humorous developments, mythic tendencies, and magical realist premises. Ausubel is, at heart, a fabulist, and the current collection puts this impulse in the forefront." –Kirkus

"In vivid, precisely fashioned language, Ausubel spans the globe, from the tropics to the Arctic, in these 11 stories…Vibrant stories that expand horizons and minds." –Booklist
 


or
Not Currently Available for Direct Purchase