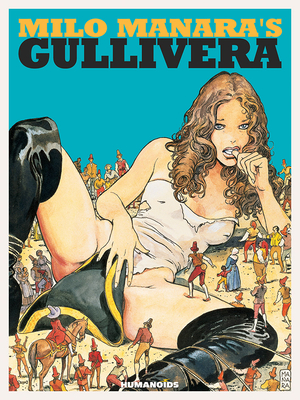 Milo Manara's Gullivera
Oversized Deluxe
Hardcover

* Individual store prices may vary.
Description
After boarding an abandoned ship, the young and beautiful Gullivera encounters strange new worlds and exotic new people, from tiny Lilliputians to teasing giants and a few other titillating stops along the way… The erotic graphic novel adaptation of Jonathan Swift's classic, Gulliver's Travels, as told by the unique and playful pen of Milo Manara. For mature audiences
Praise For Milo Manara's Gullivera: Oversized Deluxe…
"This is a book that is so damn gorgeous an oversized edition is the only format that could do it justice." - AiPT! "In GULLIVERA, Manara takes a distaff view of Jonathan Swift's GULLIVER'S TRAVELS, turning them into a somewhat erotic tour de force while simultaneously incorporating much of the original source material." - Critical Blast "Without Manara's skills as a storyteller and his detail as an artist, something like "erotic Gulliver's Travels" would just be cheap porn. And this is anything but." - Comic Bastards
Humanoids, Inc., 9781594650840, 68pp.
Publication Date: July 12, 2016
About the Author
Born in Luson, Milo Manara initially earned a living by assisting sculptors and only became interested in comics in the late sixties. He is one of the few comic artists who managed to create erotic comics and still maintain a reputation as an acclaimed artist. In 1995, Manara made Gullivera for Humanoids, loosely based on the classic novel Gulliver's Travels by Jonathan Swift. He worked with Federico Fellini on two stories, with Neil Gaiman for DC/Vertigo in 2003 and collaborated with Alejandro Jodorowsky on the series Borgia, about the 15th century papal family. He also drew X-Women and a variant cover of Spider-Woman for Marvel, in addition to his praised erotic comics such as Pandora's Eyes and The Golden Ass. In 1998, Manara was inducted into the Jack Kirby Hall of Fame and in 2004 he won an Eisner award in the Best Anthology category for The Sandman: Endless Nights.