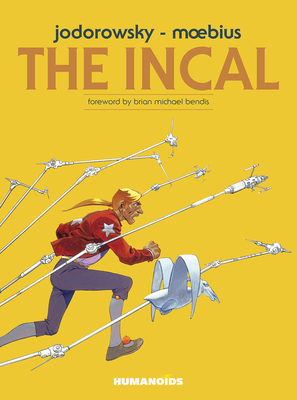 The Incal
Hardcover

* Individual store prices may vary.
Other Editions of This Title:
Paperback (9/8/2020)
Description
The Sci-Fi masterpiece by Moebius and Jodorowsky about the tribulations of the shabby detective John Difool as he searches for the precious and coveted Incal.

John Difool, a low-class detective in a degenerate dystopian world, finds his life turned upside down when he discovers an ancient, mystical artifact called "The Incal." Difool's adventures will bring him into conflict with the galaxy's greatest warrior, the Metabaron, and will pit him against the awesome powers of the Technopope. These encounters and many more make up a tale of comic and cosmic proportions that has Difool fighting for not only his very survival, but also the survival of the entire universe.
Praise For The Incal…
"The Incal isn't a book you just read. It's a science fiction book you experience. A true classic in every sense of the world. It's ingenious. And it's bonkers!... A+" - Forces of Geek "Whether you believe this or not, this is an important piece of work, historically and artistically, and should be read by all comic fans. " - BackwardsCompatible.co.uk "The Incal deserves its place at the top table of comic greatness alongside the best the medium has to offer. 5/5" - SFX Magazine "The Incal is entrancing...It crackles with invention: if you like your sci-fi, you'll love this." - The Guardian "The Incal Is The Greatest Comic That You Probably Haven't Read..." - Nothing But Comics "Moebius was a master, a rare talent of nuclear-powered imagination, and with few peers in his craft." - Kamloops This Week "It's one of the great comics team-ups..." - Rolling Stone
Humanoids, Inc., 9781594650932, 316pp.
Publication Date: September 24, 2014
About the Author
Born February 7th, 1929, in Tocopilla, Chile, of a Jewish Ukrainian immigrant family. Jodorowsky was multi-talented from an early age, becoming skilled in puppetry and mime, in addition to writing, by his late teens. He traveled with a pantomime troupe in the 1950s, and within a couple years had made his way to Paris where he collaborated with the world-renowned mime Marcel Marceau. In the 1960s, Jodorowsky ventured further into the world of theater, creating in Mexico, the Panic Movement. This innovative artistic movement allowed him to creatively participate in over a 100 theater productions. The 1970s saw him transition into the world of film where he quickly put a defining stamp on all his cinematic works. He directed several cult films, namely the infamous "El Topo," a Midnight movie favorite. Shortly thereafter, Jodorowsky became attached to direct the adaptation of the famous Frank Herbert sci-fi epic novel "Dune." At the preparation stage of the film, he brilliantly assembled a team of extremely diverse and gifted artists such as HR Giger, Chris Foss, Dan O'Bannon, and Moebius, all of who would later be hired as concept artists on Ridley Scott's "Alien." The development of "Dune" came to a halt due to financial problems, but Jodorowsky, having been exposed to such immense visual talent, propelled himself into writing graphic novels, pairing up with the artist Moebius. This collaboration resulted in what many consider to be one of the most creative European sci-fi graphic novel series of all time, "The Incal," which went on to sell millions of copies worldwide. Since penning "The Incal," Jodorowsky continued writing top selling comic books with a wide variety of Europe's most talented artists, such as "The White Lama" (with Bess), "The Metabarons" (with Gimenez), "The Technopriests" (with Janjetov), and most recently "Bouncer" (with Boucq). Along with nurturing his many other talents, Jodorowsky remains a unique storyteller whose published contributions have secured his status as one of the world's most prolific graphic novel writers.

Jean "Mœbius" Giraud was a French artist, cartoonist and writer who worked in the Franco-Belgian bandes dessinées tradition. Giraud garnered worldwide acclaim predominantly under the pseudonym Mœbius and to a lesser extent under the name Gir, which he used for the Blueberry series and his paintings. Mœbius' most famous work was The Incal, written by Alejandro Jodorowsky. He also contributed storyboards and concept designs to numerous science fiction and fantasy films, such as Alien, Tron, The Fifth Element and The Abyss.