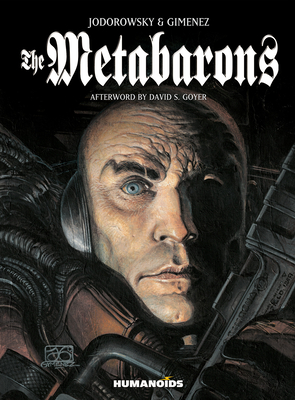 The Metabarons
Hardcover

* Individual store prices may vary.
Other Editions of This Title:
Paperback (5/18/2021)
Hardcover (10/18/2016)
Paperback (10/24/2017)
Paperback (4/19/2017)
Description
A grand scale space opera about family, sacrifice, and survival told within an immense universe, both in scope and originality.

A must-read cult spin-off of "The Incal," by Moebius and Jodorowsky, centering around the fascinating lineage of the ultimate warrior. This collection introduces the Metabaron's bloodline and reveals the origins of their deep-seated principles. Find out the source of the family's vast wealth, learn why every Metabaron has cybernetic implants, and why the only way to become the next Metabaron is for him to defeat his own father in a mortal combat. Follow each successive generation as it struggles to overcome the forces amassed against it in a galaxy corrupted by greed, power, and terror. A true classic in the pantheon of graphic storytelling and Science Fiction as a whole.
Praise For The Metabarons…
"What keeps me going back to "The Metabarons" is the immense volume and speed of its innovation. There is literally a new and mad idea on every page." - Warren Ellis, writer of "Transmetropolitan," "Plan "The Metabarons' is a magnum opus of unadorned emotion and one that will surprise you in its thoughtfulness and craft." - All-Comic.com "'The Metabaron' cycle (...) is, to my mind, the greatest work of graphic fiction ever produced." - David S. Goyer "...if you want an epic, brutal space opera with some hilarity throwing there between shocking events then pick up this book." - The Frog Queen
Humanoids, Inc., 9781594651069, 540pp.
Publication Date: February 25, 2015
About the Author
Born February 7th, 1929, in Tocopilla, Chile, of a Jewish Ukrainian immigrant family. Jodorowsky was multi-talented from an early age, becoming skilled in puppetry and mime, in addition to writing, by his late teens. He traveled with a pantomime troupe in the 1950s, and within a couple years had made his way to Paris where he collaborated with the world-renowned mime Marcel Marceau. In the 1960s, Jodorowsky ventured further into the world of theater, creating in Mexico, the Panic Movement. This innovative artistic movement allowed him to creatively participate in over a 100 theater productions. The 1970s saw him transition into the world of film where he quickly put a defining stamp on all his cinematic works. He directed several cult films, namely the infamous "El Topo," a Midnight movie favorite. Shortly thereafter, Jodorowsky became attached to direct the adaptation of the famous Frank Herbert sci-fi epic novel "Dune." At the preparation stage of the film, he brilliantly assembled a team of extremely diverse and gifted artists such as HR Giger, Chris Foss, Dan O'Bannon, and Moebius, all of who would later be hired as concept artists on Ridley Scott's "Alien." The development of "Dune" came to a halt due to financial problems, but Jodorowsky, having been exposed to such immense visual talent, propelled himself into writing graphic novels, pairing up with the artist Moebius. This collaboration resulted in what many consider to be one of the most creative European sci-fi graphic novel series of all time, "The Incal," which went on to sell millions of copies worldwide. Since penning "The Incal," Jodorowsky continued writing top selling comic books with a wide variety of Europe's most talented artists, such as "The White Lama" (with Bess), "The Metabarons" (with Gimenez), "The Technopriests" (with Janjetov), and most recently "Bouncer" (with Boucq). Along with nurturing his many other talents, Jodorowsky remains a unique storyteller whose published contributions have secured his status as one of the world's most prolific graphic novel writers.

Born November 26th, 1943 in Mendoza, Argentina.

Gimenez finished his high school education as an industrial design major and advanced his artistic education by attending the Academy of Fine Arts in Barcelona, Spain, where he studied drawing. For the next few years, he dedicated himself to the drawing of comic books, both back in his native Argentina with such publishers as Colomba and Record, as well as in Spain, contributing to magazines such as Zona 84, and Comix International. By this point, Gimenez had made quite a name for himself for his extremely detailed renditions of machinery, chiefly in the war and science fiction genres. His art further propelled him to international collaborations, and it was in 1979 that he was first published in France with a series of titles including "Leo Roa," which he also wrote. The following year, he participated, as a creative designer, on a segment of the film "Heavy Metal." For the next decade, he continued his work in comic book magazines, notably the French comics anthology Metal Hurlant and the Italian L'Eternauta.

The 1990s saw him strengthening his fan base as he was repetitively voted best artist by European audiences, a recognition that was mirrored in the festival and critical realms, with such awards as the Gaudi award at the Feria Internacional del Comics de Barcelone, in 1990. In 1992, he meets Alejandro Jodorowsky for the first time, and the two began work on "The Metabarons," a sci-fi saga of epic proportions in both art and story. It is to this day regarded as one of the true graphic novel classic of the genre and it continues successful sales around the world.

Gimenez currently maintains a consistent yet varied workload, lending his talents as illustrator to covers for CD albums and novels, as well as serving as a concept artist on video games, and motion pictures. He also remains in high demand as a graphic novel artist, collaborating with some of Europe's most acclaimed authors such as Carlos Trillo, Emilio Balcarce, and Roberto Dal Prà, when he is not writing his own stories as he successfully continues to do, as with "The Fourth Power" collection.

On April 2nd, 2020, he passed away in his home province of Mendoza, Argentina, from COVID-19 complications.

Web sites:+ http://www.juangimenez.com/