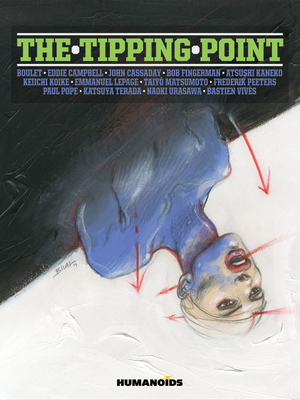 The Tipping Point
Slightly Oversized
Hardcover

* Individual store prices may vary.
Description
Some of the world's greatest creators have each written and drawn an original story that explores the key moment when a clear-cut split occurs, a mutation, a personal revolt or a large-scale revolution that tips us from one world into another, from one life to an entirely new one: The Tipping Point. From slice-of-life tales and science-fiction adventures, to amusing asides and fantastical fables, witness these major (and minor) changes and evolution through the eyes of these visionaries from the worlds of manga, bande dessinée, and comics.
Praise For The Tipping Point: Slightly Oversized…
""The Tipping Point" is a true gem, a shining star in a multiverse rich with creativity, diversity, and innovative storytelling. It will unlock new worlds, each of which you'll want to explore time and time again. Anyone who truly cares about comic books and their creators should be sure to have this one on their shelf." - Unleash the Fanboy "Suspending the narrative to explore these precise moments is a brilliant study of humanity. The Tipping Point is, without a doubt, required reading." - DoomRocket.com ""The Tipping Point" is a wonderful and eclectic anthology that any and all serious comic book fans should buy... This is a beautiful book with tons of different styles and poignant stories." - GeekedOutNation.com "...make no mistake there isn't a story in this collection containing a single bad panel...Don't be surprised if this title shows up on best-of lists at the end of the year." - AiPT! "It is a curiosity deserving of your gawking and one that begs to be revisited in continued volumes with an ever-changing aggregate of the world's creators and the perspectives they bring." - All-Comic.com "Assembled with a perfect ebb and flow of levity and direness in tone and extravagance and minimalism in illustrations, The Tipping Point provides a collection of refreshingly energetic and visually exceptional work." - ForcesOfGeek.com
Humanoids, Inc., 9781594651366, 132pp.
Publication Date: February 3, 2016
About the Author


John Cassaday began his professional career with Negative Burn. It wasn't until he showed his portfolio to Mark Waid at San Diego Comic Con that he began receiving job offers from Dark Horse, DC, and Marvel. He eventually collaborated with Joss Whedon on Astonishing X-Men which led to more work and even directing an episode of Whedon's television show, Dollhouse. Most recently he helped relaunch the successful Star Wars comic franchise alongside Jason Aaron for Marvel Comics.

Born in Ohio, Paul Pope became interested in European comics through Heavy Metal magazine. He is one of the few American cartoonists working for a major Japanese manga publisher since he created the series Supertrouble for Kodansha. Since 1997, he has also been working for DC Comics, where his titles include Hellblazer, the miniseries Batman Year 100, and Strange Adventures in the series Wednesday Comics. His science fiction series Heavy Liquid appeared in 1999 from DC/Vertigo.
or
Not Currently Available for Direct Purchase