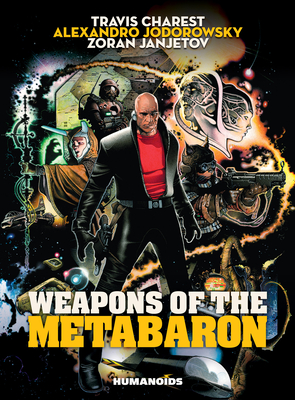 Weapons of the Metabaron
Hardcover

* Individual store prices may vary.
Description
The seminal series' spin-off story recounting how the mightiest warrior in the universe built his arsenal of war.

The creative trio of Jodorowsky, Charest, and Janjetov shows us how the Metabaron assembled the galaxy's most powerful and destructive weapons in an effort to secure his position as the universe's ultimate warrior. Travis Charest's (Artist of Wildcats, WildC.A.T.s/X-Men: The Golden Age, and Star Wars comics Cover Artist) interpretation of 'The Metabarons' mythology.
Praise For Weapons of the Metabaron…
"Weapons of the Metabaron is a beautiful book to look at. Charest and Janjetov artwork visually captures Jodorowsky's imagination and creates worlds and characters that are mythic and grand. " - Newsarama "Charest's dynamic and vibrant images paired with Jodorowsky's mystical storytelling is something very special." - The Beguiling "Cleverly written and exquisitely rendered, this is another winner..." - Junk Food for Thought "The Charest art is gorgeous and finely detailed..." - Comic Book Daily "For fans of the Metabaron story and the Jodorverse in general, Weapons of the Metabarons is a must read tale. Not only is it engaging and action-packed, but it also features some of the most impressive art of the series thanks to Charest's work." - Figures.com
Humanoids, Inc., 9781594651632, 64pp.
Publication Date: December 6, 2016
About the Author
Born February 7th, 1929, in Tocopilla, Chile, of a Jewish Ukrainian immigrant family. Jodorowsky was multi-talented from an early age, becoming skilled in puppetry and mime, in addition to writing, by his late teens. He traveled with a pantomime troupe in the 1950s, and within a couple years had made his way to Paris where he collaborated with the world-renowned mime Marcel Marceau. In the 1960s, Jodorowsky ventured further into the world of theater, creating in Mexico, the Panic Movement. This innovative artistic movement allowed him to creatively participate in over a 100 theater productions. The 1970s saw him transition into the world of film where he quickly put a defining stamp on all his cinematic works. He directed several cult films, namely the infamous "El Topo," a Midnight movie favorite. Shortly thereafter, Jodorowsky became attached to direct the adaptation of the famous Frank Herbert sci-fi epic novel "Dune." At the preparation stage of the film, he brilliantly assembled a team of extremely diverse and gifted artists such as HR Giger, Chris Foss, Dan O'Bannon, and Moebius, all of who would later be hired as concept artists on Ridley Scott's "Alien." The development of "Dune" came to a halt due to financial problems, but Jodorowsky, having been exposed to such immense visual talent, propelled himself into writing graphic novels, pairing up with the artist Moebius. This collaboration resulted in what many consider to be one of the most creative European sci-fi graphic novel series of all time, "The Incal," which went on to sell millions of copies worldwide. Since penning "The Incal," Jodorowsky continued writing top selling comic books with a wide variety of Europe's most talented artists, such as "The White Lama" (with Bess), "The Metabarons" (with Gimenez), "The Technopriests" (with Janjetov), and most recently "Bouncer" (with Boucq). Along with nurturing his many other talents, Jodorowsky remains a unique storyteller whose published contributions have secured his status as one of the world's most prolific graphic novel writers.

Travis Charest was born in Leduc, a small town in the Canadian province of Alberta. He discovered his first comic book at his grandmother's house, which inspired him to start drawing. He submitted his work to DC Comics, and based on his early work for them was asked by Jim Lee to come to California and join the Wildstorm Studios, for whom he drew the Wild CATS revamp. He eventually travelled to Paris to collaborate on a one-off graphic novel taking place within the famed universe of The Metabarons, created by Alejandro Jodorowsky. The project also involved Before The Incal and The Technopriests artist Zoran Janjetov and would come to be known as Weapons of the Metabaron. By 2007, Charest had settled in California and developed his own webcomic, Spacegirl, of which a collected book version was self-published in 2008.

Zoran Janjetov is among the most prominent comics creators of former Yugoslavia and has been published worldwide. He is best known as the illustrator of "Before The Incal," also written by Alexandro Jodorowsky.