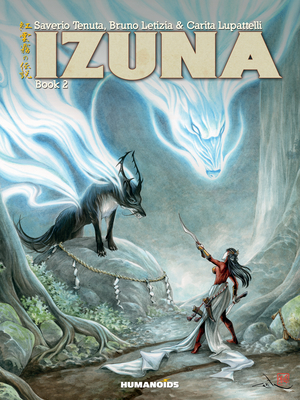 Izuna Vol.2, Volume 2
Oversized Deluxe
Hardcover

* Individual store prices may vary.
Description
From time immemorial, the spirits of nature created the Kamigakushi, a magical veil that hid them from the impure eyes of man. From that moment on, spirits and men could no longer gaze upon each other and lived as if belonging to separate worlds. One day, the Noggo appeared suddenly. No one knows how they came into being, but their harmful darkness began to infect the world of the Kami. That is why the sacred tree called Munemori created the Izuna, the only ones capable of battling the terrible scourge of the Noggo. But the mysterious birth of a wolf cub in the shape of a young girl threatens to upset the delicate balance between the two worlds and plunge both sides into chaos.
Humanoids, Inc., 9781594656590, 104pp.
Publication Date: June 26, 2018
About the Author
Saverio Tenuta was born in Rome in 1969 and studied painting at the Academy of Fine Arts. He began his career as a graphic artist and later attended the International School of Comics in Rome, where he would also teach. In addition to contributing to the magazine Heavy Metal, he worked for DC Comics on JLA: Riddle of the Beast. In 2006, the first of his own series -- which he wrote and illustrated -- the Japanese medieval adventure The Legend of the Scarlet Blades was released in France by Humanoids. He expanded the Legend world in 2014 with Izuna, which Tenuta wrote while Carita Lupatelli took over the drawing duties. More series within the Legend universe are forthcoming. An alumna of the Rome Academy of Fine Arts, Carita Lupattelli began her career as a comic book artist with Humanoids. Her first book, Izuna: Book 1, co-created and written by Saverio Tenuta, was released by Humanoids in 2015. Izuna: Book 2 was published in the US in 2018, also from Humanoids. Both volumes were nominated for Eisner Awards in the category of Best Painter/Multimedia Artist in 2016 and 2019, respectively.