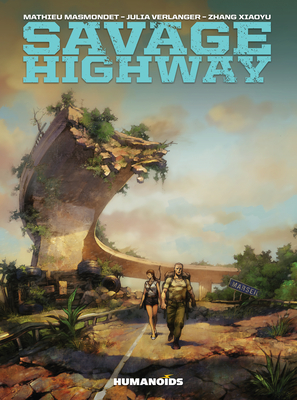 Savage Highway (Hardcover)
Humanoids, Inc., 9781594656606, 168pp.
Publication Date: April 19, 2017
* Individual store prices may vary.
Description
An ancient highway spans the wasteland. Its cracked surface has become a migratory route for the lawless hunters and marauders who inhabit this desolate, future Earth. Along the highway, Helene, an educated young woman on a perilous mission to rescue her sister, meets Mo, a solitary hunter, and Jin, an Asian warrior. Together they embark on an epic journey to a Paris in ruins, where a new social "order" is being forged...
About the Author
After several years as a struggling actor in France and the United States, Mathieu Masmondet turned to producing and screenwriting. A graduate of the School of Audiovisual Creation (ESRA) and the Euratom (European Audiovisual Writing Conservatory), and with more than 60 scripts produced, Mathieu has become a successful screenwriter, script doctor and author for television, film and comics. Born in 1975, Zhang Xiaoyu is originally from the town of Anshun in the Guizhou Province in Southern China. He created his first comic pages in 1995 while he was an art student. He has since completed a dozen comic works, many of which with prestigious European publishers, from Humanoids (Crusades) to Casterman or Glenat (The Chronicles of Legion). Zhang has twice been awarded China's top comics prizes: in 1999 for David, and in 2001 for The Take-off, and has become one of the country's most sought after comics artist. He is also involved with the publication of FEI, a magazine specialized in Sci-Fi stories.