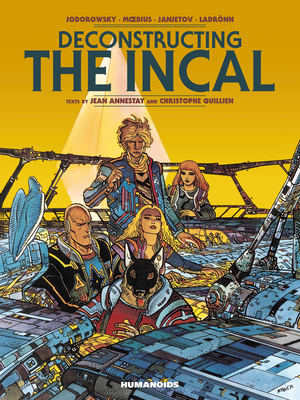 Deconstructing The Incal
Oversized Deluxe
Hardcover

* Individual store prices may vary.
Description
The second reference guide to the Jodoverse, focused on unveiling the secrets of the Universe's fiercest warrior clan: the Metabarons.

Deconstructing The Incal lifts the veil on many of the mysteries and secrets surrounding the seminal science-fiction graphic novel, which has become the cornerstone of the Jodoverse.This encyclopedic reference book, is packed with fascinating insights from The Incal's creators, Jodorowsky and Mœbius, alongside revealing text, and rare and unseen preliminary illustrations.
Humanoids, Inc., 9781594656903, 112pp.
Publication Date: October 24, 2017
About the Author
When he was little, Christophe Quillien dreamed of being a superhero. Alas, he quickly realized that life had given him a single super-power: writing. Since then, he has busied himself by writing books on comics. He published Grandes aventurières et femmes fatales de la bande dessinée (Huginn & Muninn), Méchants, crapules et autres vilains de la bande dessinée (Huginn & Muninn), La Bande dessinée (Gallimard Jeunesse), Le Guide des 100 bandes dessinées incontournables (Librio), La Bande dessinée à Paris (Parigramme). Il a aussi écrit des articles sur la BD (et d'autres sujets moins sérieux) dans la presse: The Good Life, Rolling Stone, Epok, Le Magazine Littéraire, Le Monde, Les Inrockuptibles, Télérama Sortir… He has also written articles about comics (and other less serious topics) in the press: The Good Life, Rolling Stone, Epok, The Literary Magazine, The World, Inrockuptibles, Télérama Sortir ...

Born February 7th, 1929, in Tocopilla, Chile, of a Jewish Ukrainian immigrant family. Jodorowsky was multi-talented from an early age, becoming skilled in puppetry and mime, in addition to writing, by his late teens. He traveled with a pantomime troupe in the 1950s, and within a couple years had made his way to Paris where he collaborated with the world-renowned mime Marcel Marceau. In the 1960s, Jodorowsky ventured further into the world of theater, creating in Mexico, the Panic Movement. This innovative artistic movement allowed him to creatively participate in over a 100 theater productions. The 1970s saw him transition into the world of film where he quickly put a defining stamp on all his cinematic works. He directed several cult films, namely the infamous "El Topo," a Midnight movie favorite. Shortly thereafter, Jodorowsky became attached to direct the adaptation of the famous Frank Herbert sci-fi epic novel "Dune." At the preparation stage of the film, he brilliantly assembled a team of extremely diverse and gifted artists such as HR Giger, Chris Foss, Dan O'Bannon, and Moebius, all of who would later be hired as concept artists on Ridley Scott's "Alien." The development of "Dune" came to a halt due to financial problems, but Jodorowsky, having been exposed to such immense visual talent, propelled himself into writing graphic novels, pairing up with the artist Moebius. This collaboration resulted in what many consider to be one of the most creative European sci-fi graphic novel series of all time, "The Incal," which went on to sell millions of copies worldwide. Since penning "The Incal," Jodorowsky continued writing top selling comic books with a wide variety of Europe's most talented artists, such as "The White Lama" (with Bess), "The Metabarons" (with Gimenez), "The Technopriests" (with Janjetov), and most recently "Bouncer" (with Boucq). Along with nurturing his many other talents, Jodorowsky remains a unique storyteller whose published contributions have secured his status as one of the world's most prolific graphic novel writers.

Jean "Mœbius" Giraud was a French artist, cartoonist and writer who worked in the Franco-Belgian bandes dessinées tradition. Giraud garnered worldwide acclaim predominantly under the pseudonym Mœbius and to a lesser extent under the name Gir, which he used for the Blueberry series and his paintings. Mœbius' most famous work was The Incal, written by Alejandro Jodorowsky. He also contributed storyboards and concept designs to numerous science fiction and fantasy films, such as Alien, Tron, The Fifth Element and The Abyss.