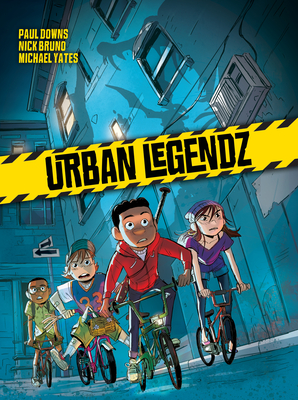 Urban Legendz
Hardcover

* Individual store prices may vary.
Description
A Junior Library Guild Gold Standard Selection.

A group of young vigilantes roam the streets of Brooklyn solving supernatural crimes.

After his mother's death, Dwayne is forced to uproot himself and move into the home where his mother grew up: a shabby apartment in Brooklyn. When your dad is a police officer, and your brother's too cool for school, what's an insecure teen supposed to do? Dwayne's personal problems are cast aside when he joins a new crew of young vigilantes, devoted to solving a series of sinister cases surrounding mysterious monsters that have been wreaking havoc throughout the city. What if all of the Urban Legends we all fear...were real?
Praise For Urban Legendz…
""Seems like the ideal book for fans of Stranger Things."" - COMICON.COM ""The debut graphic novel from a team with an impressive animated pedigree."" - THE HOLLYWOOD REPORTER ""An old-school Brooklyn twist on the 1980s coming-of-age tale with eerie themes, a sub-genre that seems supernaturally popular these days."" - DEADLINE HOLLYWOOD ""The great thing about the book is that adventure amounts to something. It isn't just the monsters that are the bad guys in this story, but the idea of gentrification of a community embracing all of the different peoples that make it thrive."" - FANBASE PRESS ""In a touching graphic novel for all ages from Humanoids about lose, friendship, scary stories, and new beginnings Urban Legendz treats its readers with colorfully playful art and an adventure every kid wishes they could explore."" - COMIC WATCH
BiG, 9781594657146, 112pp.
Publication Date: June 11, 2019
About the Author
​Paul Downs is a screenwriter, animator and educator with seventeen years of experience spanning film, commercial and video game production. Paul has written and developed projects for Cartoon Network, 20th Century Fox, and a live-action family film being produced by Smart Entertainment ("Ted", "Blades of Glory", "Anger Management"). Paul's animation credits include "Robots", the "Ice Age" franchise, "Dr. Seuss' Horton Hears a Who", "Rio", "Epic", "Free Birds", "Spies in Disguise", the 2017 Oscar® nominated film "Ferdinand" as well as the two short films "Surviving Sid" and the Oscar® nominated, "No Time for Nuts." Paul lives in Florida, with his wife Jen and their two children, where he teaches Story/Animation at Ringling College of Art and Design.

​Nick Bruno is an American Film Director and Animator at Blue Sky Studios, who in 2019 will make his Directorial debut with the animated "Spies in Disguise." Bruno was born and raised in Mohegan Lake, NY, USA, where, at an early age, he learned he could combine his love for drawing and filmmaking by pursuing a career in animation. He studied illustration and the fine arts at UMass Dartmouth, and went on to receive his Masters at NYU studying computer animation. In 2005, Bruno joined Blue Sky Studios as a Junior Animator on the feature film "Ice Age: The Meltdown." Most recently, Bruno served as Supervising Animator on "The Peanuts Movie" and in 2015, VARIETY named Bruno one of their "Ten Animators to Watch." Additional animation credits include work on "Dr. Seuss' Horton Hears a Who," "Ice Age Dawn of the Dinosaurs," "Rio," "Ice Age: Continental Drift," "Epic," "Rio2," and "Ice Age: Collision Course," as well as two short films - "Surviving Sid" and the Oscar® nominated, "No Time for Nuts." In addition to animating, Nick has developed films at 20th Century Fox and has co-written a live-action family film being produced by Smart Entertainment ("Ted", "Blades of Glory", "Anger Management"). Bruno resides in his hometown, with his wife Allison and their three children.​

​Michael Yates is a story artist and director living in Northern California. He currently works as a story artist at PIXAR Animation Studios where his credits include "Cars 3" and the upcoming "Toy Story 4". Before that, Michael worked on Guillermo Del Toro's Trollhunters at DreamWorks Animation Studios. His previous clients include Walt Disney Animation studios and the Cartoon Network series "Craig of the Creek". He also co-directed the award winning short "Legend of the Flying Tomato".