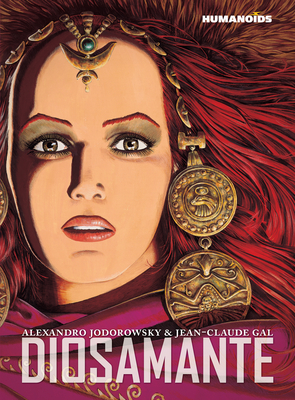 Diosamante (Paperback)
Humanoids, Inc., 9781594658501, 96pp.
Publication Date: January 15, 2019
Other Editions of This Title:
Hardcover (11/28/2012)
* Individual store prices may vary.
Description
Diosamante, the beautiful, egotistical queen falls passionately in love with a king. To prove herself worthy, she begins a long journey in search of self-perfection. The Kingdom of Arhas is clenched in the iron fist of Queen Diosamante. The pitiless ruler is known as much for her cruelty as for her incredible beauty, causing countless mighty warriors to throw themselves into fatal combat, with the hope of sharing a single night of love with the legendary Diosamante...only to be killed by her very hands at the time of the winter solstice. One day, the glowing reputation of Urbal de Sarabba challenges the pride of the young queen, as this king is said to be wiser, more powerful, and loved by his people. Furious, the intrepid beauty goes in search of this man who dares cast a shadow over her. When she arrives at his palace, however, their meeting takes an unexpected turn when the two sovereigns fall madly in love.
About the Author
Alejandro Jodorowsky (also known as Alexandro Jodorowsky) is a Chilean film and theatre director, screenwriter, playwright, actor, comic book writer, author, poet, mime, musician, and spiritual guru. He is best known for his avant-garde, cult films, such as El Topo, a midnight movie favorite. Jean-Claude Gal was a French comic artist mostly known for his work in Metal Hurlant. He began his career as an art teacher near Paris before his short stories were published. Appearing in the very first issue of Metal Hurlant, Gal continued a partnership with editor/author/ co-founder of Humanoids, Jean-Pierre Dionnet, that included 13 years on the series Armies. He began working on Diosamante, written by Alexandro Jodorowsky until his death in 1994.