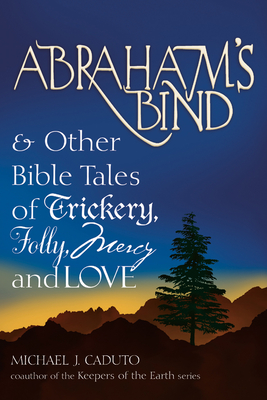 Abraham's Bind
& Other Bible Tales of Trickery, Folly, Mercy and Love
Hardcover

* Individual store prices may vary.
Other Editions of This Title:
Paperback (8/1/2006)
Description
Ancient stories from the Bible offer lessons for today's world
"Little has changed over the millennia. Our existence remains suspended between the realm of the eternal and the elemental plane of the material world. This tension pulls at our hearts and minds as we attempt to find our true selves in relationship to each other and to God. This is the crucible of our lives: the true test of our powers of strength and conviction in the face of adversity, our wrestling with the range of human emotion, from jealousy and rage to kindness, sacrifice, and generosity toward the ones we love."
--from the Introduction
With insight, thoughtfulness and wit, these provocative and entertaining re-imaginings of stories from the Bible highlight the ways God can work for and through us, even today:
Barren and despairing Sarah becomes pregnant--learning that nothing is impossible.
Jacob the trickster is, in turn, tricked into marrying the wrong wife--learning that what goes around comes around.
Joseph is sold into slavery by his brothers, only to rise to wield power of life and death over them--learning that patience and integrity will win out in the end.
Through multifaceted characters, original stories and vivid natural imagery, Caduto brings this ancient world to life. He immerses you in a richly-textured experience of another time and place. Within these pages you will come to see these familiar tales through new eyes.
Skylight Paths Publishing, 9781594731860, 208pp.
Publication Date: August 1, 2006