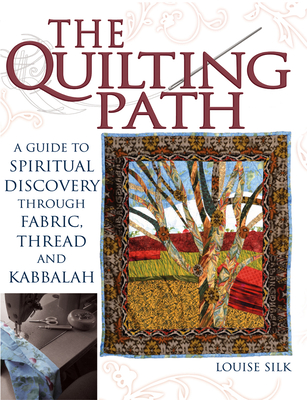 The Quilting Path
A Guide to Spiritual Discover Through Fabric, Thread and Kabbalah
Paperback

* Individual store prices may vary.
Other Editions of This Title:
Hardcover (8/1/2006)
Description
Quilting is the miracle of giving new life and purpose to fabric scraps. It can rejuvenate your spiritual life too.
We affirm that life is here and now in our quilting and its ability to enable our journey. It is the vehicle for our continuing movement along our lifetime of efforts. Our quilts allow both the goal and the process in one magnificent creation after another. Our quilting generates the perfect combination of faith with action, hope with realism, and the universal with the particular, so that we are blissful and grateful in our co-creation experiences.
--from the Conclusion
What can you learn about yourself through quilt making? What deeper symbolism can you find in the act of cutting and piecing? How can this simple activity help you make your way down a spiritual path?
Delve into these questions and more in this imaginative book that will become your spiritual friend, your teacher and your sanctuary. Contemporary quilter Louise Silk takes you through her own quilting journey to discover how the process of making a quilt can be used to explore and strengthen your own spirituality. Each chapter introduces a universal human attribute organized according to the mystical tradition of Kabbalah, relates it to a personal life practice and then applies the attribute and the practice to an original quilt project.
Anyone from the novice to the needlework expert--and from any faith tradition--will be nourished and gratified by the patchwork and appliqu experiences offered in this creative, engaging book. These ten projects, carefully designed for you, include:
One-Patch Utility Quilt
Log Cabin Quilt
String Pieced Pillows
Straight Furrows Baby Blanket
Quilting Carry-all Bag
Patchwork Prayer Shawl
Folk Art Appliqu Quilt
Remembrance Crazy Quilt
T-shirt Quilt
Rail Fence Signature Tablecloth
Plus dozens of variations ...
Skylight Paths Publishing, 9781594732065, 175pp.
Publication Date: August 1, 2006