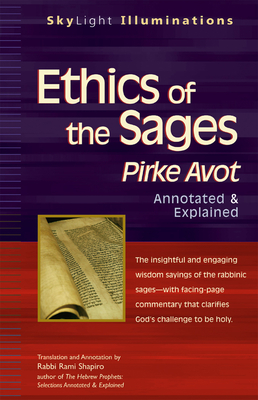 Ethics of the Sages
Pirke Avot--Annotated & Explained (SkyLight Illuminations)
Paperback

* Individual store prices may vary.
Other Editions of This Title:
Hardcover (10/1/2006)
Description
An engaging introduction to the wisdom sayings of the rabbinic sages about matters in life and how to live it with dignity. Fresh, contemporary translation and provocative commentary distills Pirke Avot as a practical guide to living ethically today.
Skylight Paths Publishing, 9781594732072, 194pp.
Publication Date: October 1, 2006
About the Author
Rami Shapiro, a renowned teacher of spirituality across faith traditions, is an award-winning storyteller, poet and essayist. He is author of The Sacred Art of Lovingkindness: Preparing to Practice, Recovery-The Sacred Art: The Twelve Steps as Spiritual Practice and The Divine Feminine in Biblical Wisdom Literature: Selections Annotated & Explained (all SkyLight Paths), among other books.Rami Shapiro is available to speak on the following topics: Writing-The Sacred Art: Beyond the Page to Spiritual PracticeStop Playing God: 12 Steps as Spiritual PracticeBiblical Wisdom for Post-biblical Times: An Exploration of Proverbs, Ecclesiastes and JobThe Sacred Art of Lovingkindness: Cultivating Compassion in Daily LifeHasidic Wisdom: An Exploration of Hasidic Storytelling, Theology and Contemplative PracticeSaints and Sages: Biblical Prophets, Ancient Rabbis and the Building of a Just World