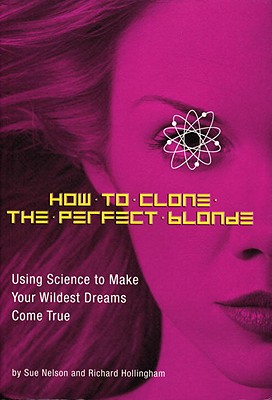 How to Clone the Perfect Blonde (Paperback)
Quirk Books, 9781594740084, 272pp.
Publication Date: September 1, 2004
* Individual store prices may vary.
Description
Want to travel back in time to your high school prom?
Wish your brain had a "hard drive" that remembered all of your appointments?
Wouldn't you love to have a permanent size 6 figure?
Why can't robots make your bed every morning?
 
Believe it or not, these questions aren't as far-fetched as they sound. In How to Clone the Perfect Blonde, award-winning journalist Sue Nelson and Richard Hollingham show how cutting-edge science has the power to make all of your wildest dreams come true.
 
Through ironic "instructions" on "How to Turn Back Time," "How to Build a Robotic Servant," and other fantasies, they offer an up-to-the-minute exploration of time travel, robotics, teleportation, cyborgs, cloning, gene therapy, and other scientific mysteries.
 
Every page brings fresh and new scientific insights. In the chapter explaining "How to Shorten Your Commute," you'll learn how Austrian scientists "teleported" a photon across a laboratory—and why human beings could be next. In the chapter describing "How to Clone the Perfect Blonde," you'll descover that people have been harvesting and eating clones for centuries (strawberries and potatoes are just two of the many plants that are identical to their parents). And in the chapter "How to Live Forever," you'll tour America's thriving cryonics industry (where recently deceased volunteers are frozen to -320°F and stored indefinitely).
 
In the tradition of bestselling pop-science books like The Physics of Star Trek and How to Build a Time Machine, this entertaining read explores the science of science fiction─and proves that anything is possible!
About the Author
Sue Nelson is an award-winning science correspondent for BBC News. Richard Hollingham is a journalist and presenter for BBC Radio. On assignment, they have traveled everywhere from Antartica to Kazakhstan, but generally prefer to remain at their home in London.
or
Not Currently Available for Direct Purchase