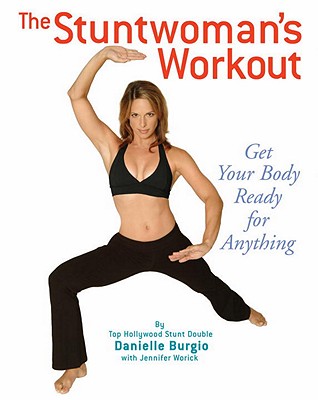 The Stuntwoman's Workout
Paperback

* Individual store prices may vary.
Description
Get the body of an action heroine!
 
Whether she's diving from a tall building, being set on fire, going mano-a-mano with the bad guys, or outrunning an avalanche, premier Hollywood stuntwoman Danielle Burgio must be not only fit, but also quick-thinking, focused, and calm in the face of enormous physical and mental demands.
 
Now Danielle reveals her fitness regimen for integrating mind, body, and spirit in a simple program people at any fitness level can follow.
 
     •  Go beyond the gym with strengthening and cardio exercises that prime your body for weight loss and tone.
     •  Gain focus, flexibility, and coordination through breathing exercises, splits, and stretching techniques to promote total body awareness.
     •  Energize your workout with sprints and roundhouse kicks that build agility and endurance.
     •  Get in tune with your body with martial arts-inspired parrying techniques that introduce new levels of activity and fitness.
 
Fitness means more than just looking good—it means being prepared for any challnge that lies ahead! With more than 50 exercises and five easy-to-master daily circuits that focus on putting some fun in your workout, The Stuntwoman's Workout is your ultimate guide to staying fit and embracing a life full of action.
Quirk Books, 9781594740305, 192pp.
Publication Date: March 5, 2005
About the Author
Danielle Burgio is a longtime Hollywood stuntwoman who has worked on The Matrix Reloaded, The Matrix Revolutions, Angel, Daredevil, Cellular, Will & Grace, Monster-in-Law, and the Worst-Case Scenario television show. Jennifer Worick is the co-author of The Action Heroine's Handbook.
or
Not Currently Available for Direct Purchase