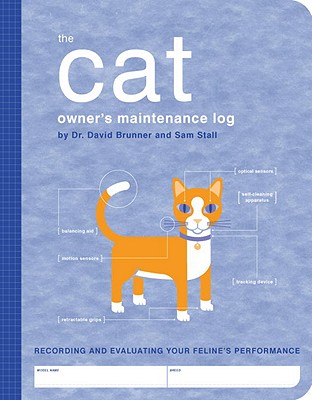 The Cat Owner's Maintenance Log: A Record of Your Feline's Performance (Paperback)
A Record of Your Feline's Performance
Quirk Books, 9781594740480, 96pp.
Publication Date: June 1, 2005
Description
Important: Please Read Before Proceeding
Use The Cat Owner's Maintenance Log to monitor the performance and operation of your feline. Please document every visit to your service provider. Please record all medications administered to the feline. It is important to attach photographic evidence of the feline on the specially marked pages herein. The extended warranty will not be honored without these materials.
Additional paperwork and receipts can be stored in the provided envelope. In the event of a malfunction, please bring this entire notebook to your service provider. Thank you for your cooperation.

About the Author
Dr. David Brunner specializes in treating small animals--cats and dogs. He has two daughters, Molly and Kendell, two black Labrador retrievers, and a wonderful cat named Mouse. He is also the coauthor of The Dog Owner's Manual. Sam Stall is the coauthor of The Dog Owner's Manual and the author of The Good, The Bad, and the Furry. He resides in Indianapolis with his three terrier mixed-breeds, Tippy, Katie, and Gracie, as well as his wife, Jami (who has no terrier blood whatsoever), and their cat, Ted.
Advertisement