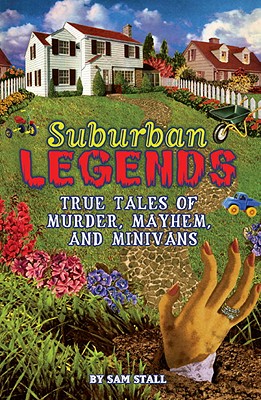 Suburban Legends: True Tales of Murder, Mayhem, and Minivans (Paperback)
True Tales of Murder, Mayhem, and Minivans
Quirk Books, 9781594740510, 240pp.
Publication Date: August 1, 2006
* Individual store prices may vary.
or
Not Currently Available for Direct Purchase
Description
It's a Terrible Day in the Neighborhood
 
They told you the suburbs were a great place to live. They said nothing bad could ever happen here.
But they were wrong.
 
This collection of terrifying true stories exposes the dark side of life in the 'burbs—from corpses buried in backyards and ghosts lurking in fast food restaurants to UFOs, vanishing persons, bizarre apparitions, and worse. Consider:
 
     •  The Soccer Mom's Secret. Meet Melinda Raisch of Columbus, Ohio. She's the wife of a dentist. A mother of three. A PTA member. And she has enough murderous secrets to fill a minivan.
     •  Noise Pollution. More than 100 residents of Kokomo, Indiana, claim their small town is under attack by a low-pitched humming sound that erodes health and sanity. Too bad they're the only ones who can hear it.
     •  Death Takes a Holiday inn. There's nothing more reassuring than a big chain hotel in a quaint small town—unless it's the Holiday Inn of Grand Island, New York, where you'll spend the night with the spirit of a mischievous little girl.  
 
So lock your doors, dim the lights, and prepare to stay up all night with this creepy collection of true tales. We promise you'll never look at white picket fences the same way again!
About the Author
Sam Stall lives with his wife, Jami, in the quintessentially Middle American town of Indianapolis, Indiana. Their home sits on quiet, tree-lined Primrose Avenue, part of a beautiful suburban area where nothing bad ever happens (except the tragic events described on pages 16, 178, and 216).
Advertisement