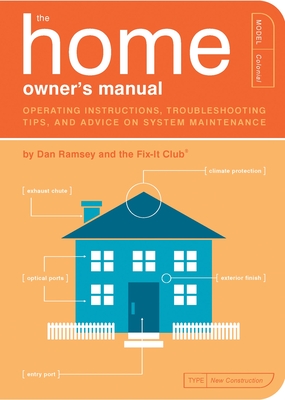 The Home Owner's Manual (Paperback)
Operating Instructions, Troubleshooting Tips, and Advice on System Maintenance (Owner's and Instruction Manual #5)
Quirk Books, 9781594741036, 224pp.
Publication Date: February 1, 2006
* Individual store prices may vary.
Description
At Last! A Beginner's Guide to Home Technology
 
Water stains on your ceiling. Dents and cracks in your drywall. Radiators that hiss and gurgle all night long. It's enough to make you cry out, "Why doesn't my house come with an owner's manual?" And now—finally!—it does.  
 
Through step-by-step instructions and helpful schematic diagrams, The Home Owner's Manual explores hundreds of frequently asked questions: What's the best way to fix a leaky faucet? When should I have my chimney cleaned? How can I reset a circuit breaker without electrocuting myself? Whatever your concerns, you'll find the answers here—courtesy of licensed building contractor Dan Ramsey, who has taught the basics of renovation to thousands of homeowners.
About the Author
Dan Ramsey is a licensed building and home improvement contractor who has taught thousands of homeowners how to fix things through more than two dozen books and his Fix-It Club® (www.FixItClub.com). Previously, he was a successful real estate agent. In addition, Dan has owned and maintained seven homes, including his latest at the gateway to the Redwoods in northern California. He currently is president of the National Association of Home & Workshop Writers (www.nahww.org). Dan lives and works with his wife and editor of 35 years, Judy. They have three children (Heather, Byron, and Brendon), three grandchildren, three pets, and three vehicles. Life is good! Paul Kepple and Jude Buffum are better known as the Philadelphia-based studio Headcase Design. Their work has been featured in many design and illustration publications, such as American Illustration, Communication Arts, and Print. Paul worked at Running Press Book Publishers for several years before opening Headcase in 1998. Both graduated from the Tyler School of Art, where they now teach.
or
Not Currently Available for Direct Purchase