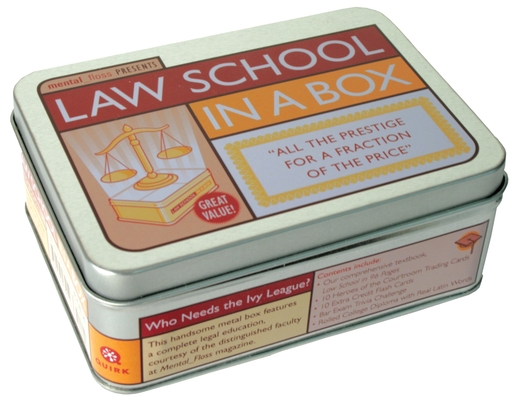 Law School in a Box (Cards)
All the Prestige for a Fraction of the Price
Quirk Books, 9781594741463, 96pp.
Publication Date: February 1, 2007
* Individual store prices may vary.
Description
Who Needs the Ivy League?
 
This handsome metal box features a complete legal education, courtesy of the distinguished faculty at Mental_Floss magazine. Contents include:
 
     •  Our comprehensive textbook, Law School in 96 Pages
     •  10 Heroes of the Courtroom Trading Cards
     •  10 Extra Credit Flash Cards
     •  Bar Exam Trivia Challenge
     •  Rolled College Diploma with Real Latin Words
About the Author
John Cascarano and Jacquelyn Oña Cascarano met in the spring semester, just outside the University of Michigan Law School reading room, where they probably should have been studying. Instead of cases, they found love. (Which is much better, in their unanimous professional legal opinion.) The couple, who got hitched soon after graduation, currently reside in Philadelphia, where they enjoy taking long walks around Rittenhouse Square with their ever-pooping wheaten terrier, Hamburger "Hammy" Cascarano.
Praise For Law School in a Box: All the Prestige for a Fraction of the Price…
"This tongue-in-cheek crash course includes a mini-textbook, 10 'Heroes of the Courtroom' trading cards, 10 'You Be the Judge' cards, a mini bar exam, and a faux diploma. Best of all, there's no tuition!"—Catholic Digest