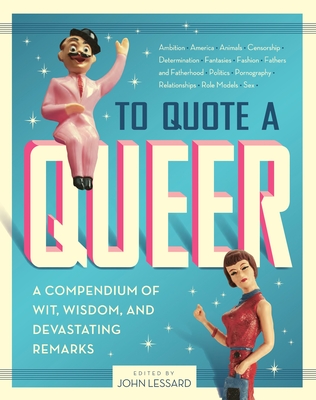 To Quote a Queer
A Compendium of Wit, Wisdom, and Devastating Remarks
Paperback

* Individual store prices may vary.
Description
We're here! We're queer! And we're hilarious!
 
Not to mention clever, eloquent, bitchy, poetic, luminous, and dead-on brilliant! To Quote a Queer features more than 2,000 quotations from the LGBT community and icons of queer culture on a wide range of subjects, including
 
     •  Childhood: "Bike-riding and tree-climbing may be typically boyish, but they were merely
        means to my sissified ends; I wanted, like an eight-year-old Garbo, to be alone."
        - Dan Savage
     •  Coming Out: "What happened to me is exactly the opposite of what closeted people fear.
         They think they'll lose everything if they come out. This did not happen to me at all. In fact, everything came back tenfold." - Melissa Etheridge
     •  Fame: "When you become a public figure, you become at the same time a product, and
        people actually look at your 'expiration date,' you know? They look at your age and say,
        'Hmm. How fresh is this one?'" - Rupaul
     •  Writing: "You have to write a lot of bad poetry to get a good line of prose." - Dorothy Allison
     •  Humor: "If I'm going to make fun of something, I need to find that in myself and then
        exaggerate it." - David Sedaris
Quirk Books, 9781594742231, 480pp.
Publication Date: April 1, 2008
About the Author
John Lessard is assistant professor of English and film studies at the University of the Pacific in Stockholm, California.
or
Not Currently Available for Direct Purchase