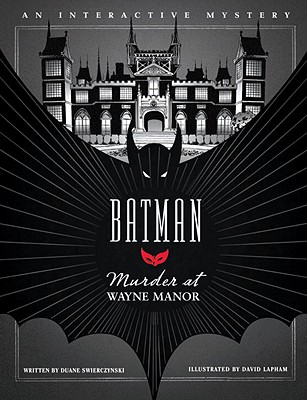 Batman: Murder at Wayne Manor (Hardcover)
Murder at Wayne Manor
Quirk Books, 9781594742378, 80pp.
Publication Date: May 1, 2008
* Individual store prices may vary.
or
Not Currently Available for Direct Purchase
Description
Murder at the Mansion. Can you solve the crime?
For generations, the people of Gotham City have looked to Wayne Manor as the embodiment of wealth and high society. But when construction crews discover a corpse buried on the grounds, the venerable family estate is embroiled in scandal.
Is someone trying to frame billionaire playboy Bruce Wayne for a shocking and heinous crime? Hardly. Forensic scientists determine that the body has been decomposing for at least thirty years, and the likely murderer was Bruce's father, Dr. Thomas Wayne.
Torn between the need to protect his family's honor and his obligation to deliver justice, Batman sets out to solve this coldest of cases, using nine mysterious clues (all included throughout this book as removable facsimiles):
- a blood-stained party invitation
- a map of Wayne Manor
- a Gotham City newspaper
- an autopsy report
- private journals, a letter, a photograph, and more
Was Dr. Wayne--the man young Bruce swore to avenge on that bloody night in Gotham City--actually a killer? It's up to you to sift through the clues and uncover the shocking answer.
About the Author
Duane Swierczynski is the author of several crime novels as well as The Crimes of Dr. Watson, an interactive Sherlock Holmes mystery. He lives in Philadelphia. David Lapham is an award-winning comics writer and artist whose works include Stray Bullets, Murder Me Dead, and Batman: City of Crime.
Advertisement