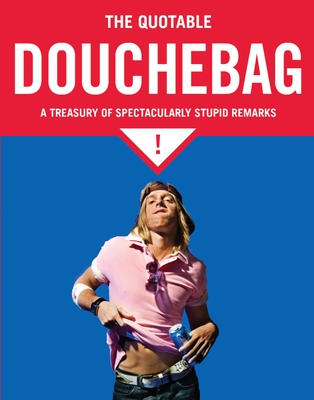 The Quotable Douchebag
A Treasury of Spectacularly Stupid Remarks
Paperback

* Individual store prices may vary.
Description
Did he really just say that?!?
 
Douchebags have a gift for speaking the unspeakable. Vain, arrogant, brash, and clueless, they're the worst the male species has to offer—and now their most outlandish statements have been compiled into a single volume. The Quotable Douchebag features dozens of boneheaded and tasteless remarks from actors, musicians, athletes, and politicians, including:
 
David Hasselhoff: "There are many dying children out there whose last wish is to meet me."
 
Gene Simmons: "[I] don't believe there's any difference between a monogamous and a polygamous relationship. Those are all just big words, like gymnasium."
 
Sean Hannity: "I'll tell you who should be tortured and killed at Guantanamo: every filthy Democrat in the U.S. Congress."
 
And many, many more.
Quirk Books, 9781594744259, 144pp.
Publication Date: July 1, 2009
About the Author
Margaret McGuire lives in Philadelphia, the city voted the #1 ugliest city by Travel+Leisure magazine.
or
Not Currently Available for Direct Purchase