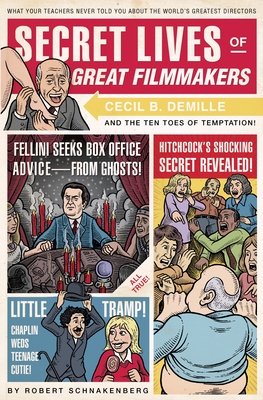 Secret Lives of Great Filmmakers: What Your Teachers Never Told You about the World's Greatest Directors (Paperback)
What Your Teachers Never Told You about the World's Greatest Directors
Quirk Books, 9781594744341, 287pp.
Publication Date: February 17, 2010
Description
Strange-But-True Tales of Cross-Dressers, Drug Addicts, Foot Fetishists, and Other Legendary Filmmakers. With outrageous and uncensored profiles of everyone from D. W. Griffith to Quentin Tarantino, Secret Lives of Great Filmmakers reveals the little-known secrets of all your favorite directors. Why did Charlie Chaplin refuse to bathe for weeks at a time? Was Alfred Hitchcock really missing a belly button? Is Walt Disney's corpse preserved in a state of suspended animation? And why on earth did Francis Ford Coppola direct a 3-D pornographic movie? The legends of the silver screen will never be the same.
About the Author
Robert Schnakenberg is the author of several nonfiction books, including Secret Lives of Great Authors. He lives in Brooklyn.
Advertisement