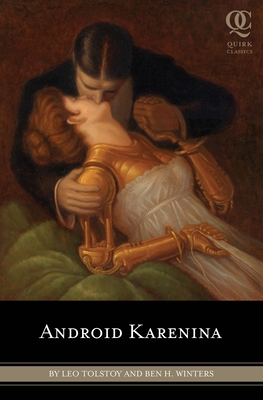 Android Karenina (Quirk Classics #2) (Paperback)
Quirk Books, 9781594744600, 512pp.
Publication Date: June 8, 2010
Other Editions of This Title:
Digital Audiobook (6/7/2010)
* Individual store prices may vary.
Description
It's been called the greatest novel ever written. Now, Tolstoy's timeless saga of love and betrayal is transported to an awesomer version of 19th-century Russia. It is a world humming with high-powered groznium engines: where debutantes dance the 3D waltz in midair, mechanical wolves charge into battle alongside brave young soldiers, and robots—miraculous, beloved robots!—are the faithful companions of everyone who's anyone. Restless to forge her own destiny in this fantastic modern life, the bold noblewoman Anna and her enigmatic Android Karenina abandon a loveless marriage to seize passion with the daring, handsome Count Vronsky. But when their scandalous affair gets mixed up with dangerous futuristic villainy, the ensuing chaos threatens to rip apart their lives, their families, and—just maybe—all of planet Earth.
About the Author
Leo Tolsoy, the author of War and Peace, has been called the most brilliant master of realistic fiction in all literary history. He lived in Russia. Ben H. Winters collaborated with Jane Austen on the New York Times best seller Sense and Sensibility and Sea Monsters. He lives in Brooklyn.
Praise For Android Karenina (Quirk Classics #2)…
"Literary hybrids of Jane Austen novels and zombie stories? That's so last year. Quirk Books, which released the best-selling novels Pride and Prejudice and Zombies and Sense and Sensibility and Sea Monsters, has seen the future of the mashup novel, and it is Leo Tolstoy and robots."—New York Times

"Anna's nightmare, one of the most famous passages in Anna Karenina, clearly anticipates the 'steampunk-inspired' atmosphere of Android Karenina… Tolstoy didn't know about steampunk or cyborgs, but he did know about the nightmarishness of steam power, unruly machines, and the creepy half-human status of the Russian peasant classes."—Elif Batuman, author of The Possessed, via The New Yorker

"Creepy, thrilling, and highly enjoyable!"—Library Journal

"Whenever a truly pulpy trend reaches its apotheosis like this, I can't help but wonder if we'll get a new classic out of it."—io9

"Android Karenina lives up to its promise to make Tolstoy 'awesomer.'"—The Onion AV Club

"Winters, a playwright, librettist, and author of Sense and Sensibility and Sea Monsters, connects all of Tolstoy's dots in the cleverly bizarre world he has created and he transforms a Russian novel into a reasonably demented work of science fiction."—Galley Cat

"With Android, Winters has given Tolstoy's beautiful Russian epic a steampunk edge, filling the book with robots, space travel and yes, even a few aliens."—Techland
or
Not Currently Available for Direct Purchase