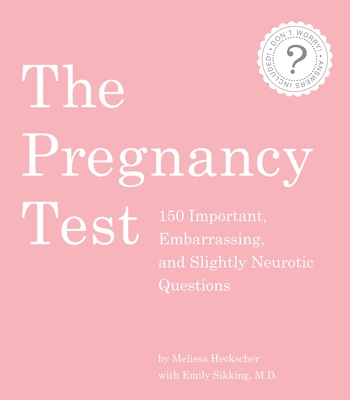 The Pregnancy Test
150 Important, Embarrassing, and Slightly Neurotic Questions
Paperback

* Individual store prices may vary.
Description
More than 150 serious questions from real moms-to-be, including:

     •  Can I ride a rollercoaster in my first trimester?
     •  Is it safe to pump my own gas?
     •  Why is hair growing around my belly button?
     •  Can I get pregnant when I'm already pregnant?
     •  If I'm stung by a bee, can it hurt the baby?
     •  If my baby only weighs one pound, why have I gained 15?

Test your own maternity savvy—then turn the page and find out what the experts say!

Being pregnant is no joke. So why are your family and friends laughing at so many of your questions about it? As an expectant mom, you need to know whether it's okay to pump your own gas. You need to know whether one little cup of coffee will make your baby come out all jittery. That's why authors Melissa Heckscher and Dr. Emily Sikking have prepared The Pregnancy Test: part multiple-choice quiz and part maternity reference book, offering carefully researched and informative answers to the most important, embarrassing, and slightly neurotic questions every mom-to-be has ever wondered. At long last—the whole truth about what to expect while you're expecting!
Quirk Books, 9781594744754, 272pp.
Publication Date: May 3, 2011
About the Author
Melissa Heckscher is the author of several nonfiction books. Her writing has also appeared in the Los Angeles Daily News, the Times Picayune, the Monterey County Herald, AOL's Digital City, New York 1 News, the New York Sun, and the Associated Press. She lives in Los Angeles with her husband and son. Dr. Emily Sikking is a board-certified ob-gyn at St. John's Hospital in Santa Monica, California.
or
Not Currently Available for Direct Purchase