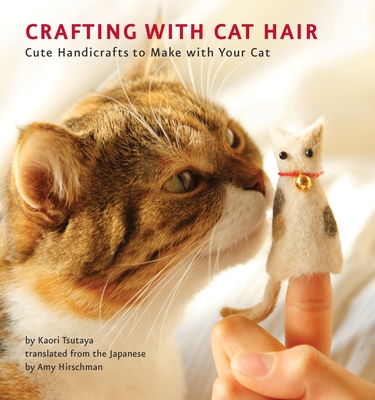 Crafting with Cat Hair
Cute Handicrafts to Make with Your Cat
Paperback

* Individual store prices may vary.
Description
Got fur balls?

Are your favorite sweaters covered with cat hair? Do you love to make quirky and one-of-a-kind crafting projects? If so, then it's time to throw away your lint roller and curl up with your kitty! Crafting with Cat Hair shows readers how to transform stray clumps of fur into soft and adorable handicrafts. From kitty tote bags and finger puppets to fluffy cat toys, picture frames, and more, these projects are cat-friendly, eco-friendly, and require no special equipment or training. You can make most of these projects in under an hour—with a little help, of course, from your feline friends!
Praise For Crafting with Cat Hair: Cute Handicrafts to Make with Your Cat…
"The year's most unconventional crafting book."—Associated Press
 
"This dandy little guide shows how to turn stray clumps of cat hair into soft and adorable handicrafts."—Tucson Citizen

"There's no other word for this book except: purrfect." —Los Angeles Times

"One of the most unexpectedly popular, weirdly specific books I ever had the pleasure to shelve." –Jenn Northington, Book Riot 

"Intensely cute…"—Publishers Weekly

"An extremely helpful guide."—Buzzfeed

"Quirky and the projects are super easy."—OregonLive.com
 
"It caught our attention."—The Huffington Post

"You may think kitties are only good for getting hair all over your favorite chair and eating more kibble than you thought possible but Crafting with Cat Hair will show you how to turn cat hair into mittens, tote bags, book covers and more."—CraftFoxes.com
 
"Personal projects that celebrate your cat and they look as cute as can be!"—Neatorama
 
"Put those furballs to work for YOU!"—Suvudu

"It's bizarre, to be sure, but the appliques are kind of cute, too. This is a good one for your cat-loving crafty friends (and you know you have them)."—Austin American Statesman
Quirk Books, 9781594745256, 96pp.
Publication Date: October 11, 2011
About the Author
Born in Tokyo, Kaori Tsutaya is a cat lover and freelance writer whose writings have been published in magazines and special-interest books. Many of her published works are based on the subject of cats and include articles, photography, and books on crafting.

Her blogs "The Laws of the Cat" (nekono-okite.cocolog-nifty.com) and "The Cat Hair Craft Room" (nekoke.com) are popular in Japan. 

Amy Hirschman is a translator, crafter, and pop-culture enthusiast living in California. She studied Japanese for four years at the University of Pittsburgh and has lived in Japan. Though she is not a cat owner, her friends will attest that she is the greatest cat sitter they have ever had. This is her first published translation.