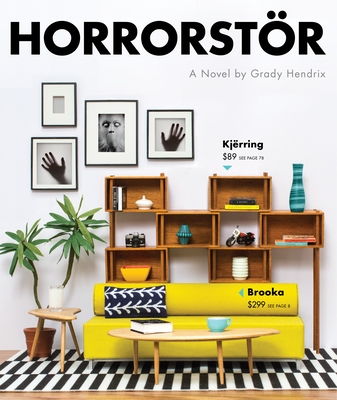 Horrorstor (Paperback)
A Novel
Quirk Books, 9781594745263, 240pp.
Publication Date: September 23, 2014
Other Editions of This Title:
Compact Disc (9/23/2014)
Compact Disc (9/23/2014)
MP3 CD (9/23/2014)
* Individual store prices may vary.
Description
A traditional haunted house story in a thoroughly contemporary setting, Horrorstör comes packaged in the form of a glossy mail order catalog, complete with product illustrations, a home delivery order form, and a map of Orsk's labyrinthine showroom.

Something strange is happening at the Orsk furniture superstore in Cleveland, Ohio. Every morning, employees arrive to find broken Kjerring bookshelves, shattered Glans water goblets, and smashed Liripip wardrobes. Sales are down, security cameras reveal nothing, and store managers are panicking.
 
To unravel the mystery, three employees volunteer to work a nine-hour dusk-till-dawn shift. In the dead of the night, they'll patrol the empty showroom floor, investigate strange sights and sounds, and encounter horrors that defy the imagination.
About the Author
Grady Hendrix is a novelist and screenwriter based in New York City. His novels include Horrorstör, named one of the best books of 2014 by National Public Radio, and My Best Friend's Exorcism, for which the Wall Street Journal dubbed him "a national treasure." The Bram Stoker Award-winning Paperbacks from Hell, his survey of outrageous horror novels of the 1970s and 80s, was called "pure, demented delight" by the New York Times Book Review. He's contributed to Playboy, The Village Voice, and Variety.
Praise For Horrorstor: A Novel…
"Horrorstör delivers a crisp terror-tale...[and] Hendrix strikes a nice balance between comedy and horror."—TheWashington Post

"Disarming."—The Wall Street Journal

"Hendrix conjures up some wonderfully gruesome imagery."—Nerdist

"An inventive, hilarious haunted house tale."—Bustle

"Hendrix's one-of-a-kind novel is an innovative hybrid of ghost story and satire, at once clever, gruesome, and hilarious."—Amazon Book Review
 
"If you've ever been frustrated trying to put together furniture from IKEA, you'll get a laugh out of Hendrix's spoof mystery."—New York Post

"Wildly fun and outrageously inventive."—Shelf Awareness for Readers, starred review 

"If you see me in the wild and I'm reading a book that was written by Grady Hendrix, interrupt me at your own peril."—Sarah Gailey, Hugo-Award winning author of Magic for Liars

"Hendrix is an engaging writer."—Santa Fe New Mexican

"A clever little horror story...[and] a treat for fans of The Evil Deador Zombieland, complete with affordable solutions for better living."—Kirkus Reviews

"A fun horror novel."—Library Journal
 
"A very clever ghost story."—Booklist

"The book's packaging as a catalog—complete with illustrations of increasingly sinister-looking furniture with faux Scandinavian names—gives it a charmingly oddball allure."—Publishers Weekly
 
Praise for My Best Friend's Exorcism:
"National treasure Grady Hendrix follows his classic account of a haunted IKEA-like furniture showroom, Horrorstor (2014), with a nostalgia-soaked ghost story, My Best Friend's Exorcism."—The Wall Street Journal

"Take The Exorcist, add some hair spray and wine coolers, and enroll it in high school in 1988—that'll give you My Best Friend's Exorcism...Campy. Heartfelt. Horrifying."—Minnesota Public Radio
 
"Clever, heartfelt, and get-under-your-skin unnerving."—Fangoria 

"A touching story of high school friendship and, well, demonic possession."—Bloody Disgusting
 
"Terrific...Sharply written...[My Best Friend's Exorcism] makes a convincing case for [Hendrix's] powers as a sharp observer of human behavior, filtered through a fun genre conceit that doesn't skimp on the spooky—or the bodily fluids."—The A.V. Club
 
Praise for Paperbacks from Hell:
"Pure, demented delight."—The New York Times Book Review

"Paperbacks from Hell is as funny as it is engaging."—The Washington Post

"The book is a true appreciation of the genre."—Los Angeles Times

"Paperbacks from Hell is as wild as its source material."—The A.V. Club

"Just thumbing through these pages will bring back your youth— and terrify you all over again."—Newsday

Praise for We Sold Our Souls:
An NPR Pop Culture Happy Hour Pick
An io9 2018 Fall Preview Pick

"Kickass, horrifying, and smart as hell. It certainly earns my two horns up."—Dread Central

"Wild and fun, genuinely terrifying in places, and also somehow heartfelt."—Tor.com

"A fast-paced ride, firmly rooted in the pulp horror tradition…Hendrix's darkest novel yet will leave readers begging for an encore."—Booklist, starred review

"Hendrix's pulpy love letter to heavy metal music is a gloriously over-the-top scare fest that has hidden depths. Readers will root for Kris all the way to the explosive, poignant finale."—Publishers Weekly

"Horror and humor play off each other in a delicate dance."—Nightmare Magazine