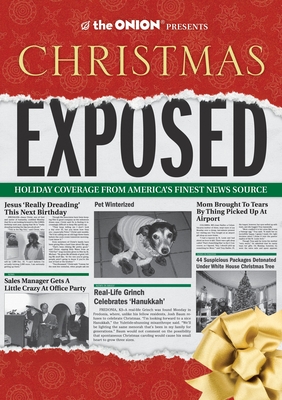 The Onion Presents: Christmas Exposed: Holiday Coverage from America's Finest News Source (Paperback)
Christmas Exposed: Holiday Coverage from America's Finest News Source
Quirk Books, 9781594745423, 144pp.
Publication Date: October 25, 2011
Description
Christmas wouldn't be Christmas without impulse-priced holiday gift books--and now The Onion has unleashed its award-winning team of investigative journalists upon the genre. Christmas Exposed features more than one hundred shocking tales of Secret Santas, shopping mall mayhem,
dysfunctional family dinners, and much, much more.
About the Author
The Onion is America's Finest News Source. It is the last bastion of unbiased, reliable, and definitive news in a world dominated by superficiality, mediocrity, and non-Onion news outlets. Since its founding back in 1988, The Onion has expanded into an omnipotent news empire reaching millions of fans through print, broadcast, radio, online, and mobile outlets. Today, The Onion misinforms more than 1.5 million readers in print and 7.5 million online each month.
Advertisement