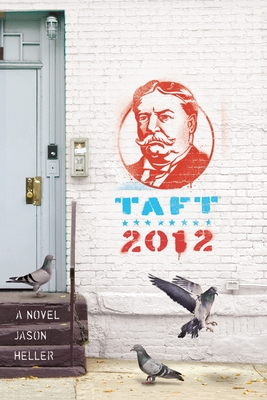 Taft 2012
A Novel
Paperback

* Individual store prices may vary.
Description
HE'S BACK.
AND HE'S THE BIGGEST THING IN POLITICS.
He is the perfect presidential candidate. Conservatives love his hard-hitting Republican résumé. Liberals love his peaceful, progressive practicality. The media can't get enough of his larger-than-life personality. And all the American people love that he's an honest, hard-working man who tells it like it is.
There's just one problem. He is William Howard Taft . . . and he was already president a hundred years ago. So what on earth is he doing alive and well and considering a running mate in 2012? 
A most extraordinary satire, Jason Heller's debut novel follows the strange new life of a presidential Rip Van Winkle: a man who never even wanted the White House in the first place, yet finds himself hurtling toward it once more—this time, through the media-fueled madness of 21st-century America.
Praise For Taft 2012: A Novel…
"...Taft 2012 aims at a range of targets rivaling Mark Twain's The Gilded Age..."— Newburyport News

"...this Rip Van Winkle tale is fresh and funny, a fast and purely enjoyable read that could not come at a better time."—Buffalo News

"William Howard Taft, the 27th president of the United States, reappears in present day and creates political chaos in Jason Heller's charming and funny debut novel, Taft 2012...In Taft 2012, Heller takes someone forgotten in history and makes him relevant. The juxtaposition with the modern world and how the U.S. views politics today creates a marvelous satire that rings all too true."—Associated Press
 
"In a stirring, clever and fearlessly funny debut novel, Jason Heller explores this anachronism with biting satirical deviousness. For a work of such brevity, Taft 2012 manages to say more about modern American politics than most major pundits could ever hope to, and it does it while eliciting a giggle on nearly every page...Taft 2012 is a brave, addictive book from a witty new voice in American fiction. Once you've started to read it, you won't want to stop, and by the time you've finished, you'll be wishing you could vote for its hero."—BookPage.com

"Debut novelist Heller sets up his satire so well that one might doubt one's grasp of presidential history!...[a] strong and thoughtful political exploration" —Library Journal

"Heller tells his imaginative story with tweets and TV transcripts as well as conventional expository prose, adding to the amusement of a cross-generational look at politics."—Booklist 

"…a stellar debut…"—Publishers Weekly, starred review

"Heller is a brilliant writer with a fantastic imagination and a nose for hot topics."—303Magazine.com

"The novel is a fun read, and even the most casual of political observers will enjoy watching Taft's new political career play out. But don't delve into it on an empty stomach. Taft doesn't go hungry no matter what century it is."—Scripps Howard News Service

"...[a] lean, gripping book..."—Asbury Park Press
 
Quirk Books, 9781594745508, 256pp.
Publication Date: January 17, 2012
About the Author
Jason Heller is an American culture journalist whose work appears in The A.V. Club, Village Voice Media, Alternative Press, Tor.com, Weird Tales. Taft 2012 is his first novel. He lives in Denver, Colorado.