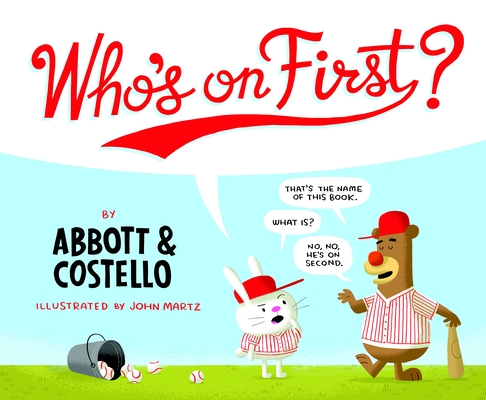 Who's on First?
Hardcover

* Individual store prices may vary.
Description
One of the most beloved comedy sketches of all time is now a funny picture book for adults, kids, classic comedy fans, and baseball aficionados

"Who's On First?" is one of the great comedy bits of all time—popular not just with fans of Abbott and Costello but also with lovers of baseball and comedy. Now, the classic sketch has been transformed into a priceless picture book for kids of all ages!
 
Follow the mistaken identities, confusion, and lots of laughs as the new baseball catcher, Rabbit, asks coach Bear the names of the other players on their team ("Who's on first. What's on second. I Don't Know's on third."). Full of silly banter and retro-style illustrations, this charming picture book breathes new life into a landmark of sketch comedy—and is sure to delight young readers and their parents.

"The book is stunning ~ dad and Bud would be proud!!" —Chris Costello, Daughter of Lou Costello
Praise For Who's on First?…
"Martz's clever graphics make the premise clear to the youngest readers...Parents can now introduce the routine earlier than has been traditional for young fans and, as we all know, participating in tradition is the essence of the love of baseball."
—Newsday

"...miscommunications have never been so much fun."
—USA Today, 3 out of 4 stars

"Who's on First? by Abbott and Costello presents the print version of the duo's hilarious skit, guaranteed to make you laugh."
—Sacramento Bee

"...delightfully illustrated...If you have children who enjoy baseball or softball, this is a perfect complement to their personal library."
—Wired's Geek Mom

"Martz' version of the story, which stars a rabbit and a bear, has all the goofy humor of the original sketch."
—Boing Boing

"A laugh-out-load read, this book of baseball banter knocks one right out of the park."
—The Talking Walnut

"…cannot stop smiling…[this] delightfully illustrated take on the classic comedy skit by Abbott and Costello is for the young . . . and young-at-heart."
—Examiner.com

"Who's on First? is a delightfully funny book with illustrations that bring the routine onto a new platform that even the youngest fan will understand and enjoy."
—Kid Lit Reviews

"Your totz will be instant fans."
—Reader Totz
 
"…this book's a hit with me"
—Ronna Mandel, Good Reads with Ronna
 
"A very funny read…"
—Fiction State of Mind
 
"My twelve-year-old thinks both the words and the pictures are very funny and laughed out loud reading it."
—City Book Review
 
"[We] had a blast reading the book…[and] John Martzpresents delightful illustrations that just 'pop off' the page."
—Hudson Valley Parent

"If the antics of Abbott and Costello made generations of adults double over with laughter, imagine how much kids will love it when this tale is acted out from the point of view of a rabbit and a bear.  The giggles will be nonstop!  Martz gives his characters all the visual slapstick cues and verbal antics of this Abbott and Costello classic, and brings their brand of comedy to full life for a new generation.  This book is a fantastic introduction to classic American humor."
—Mollie Sultenfuss, Pages Books & Coffee, Newton, KS

"...be prepared to turn the pages—fast."
—Publishers Weekly
Quirk Books, 9781594745904, 40pp.
Publication Date: February 19, 2013
About the Author
WILLIAM "BUD" ABBOTT and LOU COSTELLO are among the most famous duos in entertainment history. Together they starred in 36 films and made countless appearances on television and radio. In 1956, they were inducted into the National Baseball Hall of Fame and Museum in Cooperstown, New York. In 1999, Time magazine named "Who's on First?" the best comedy sketch of the 20th century.
 
JOHN MARTZ is a cartoonist and illustrator who lives in Toronto with his wife and dog. John loves cartoons, comics, and comedy and grew up watching Abbott and Costello movies. He listened to "Who's on First?" so many times as a kid that he had it memorized.
or
Not Currently Available for Direct Purchase