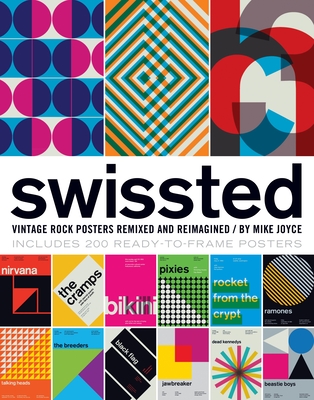 Swissted
Vintage Rock Posters Remixed and Reimagined
Paperback

* Individual store prices may vary.
Description
"Fine art for font nerds."—New York Magazine 

"One of the most engaging homages I have ever seen."—Steven Heller

Swissted takes rock concert posters of the '70s, '80s, and '90s and remixes and reimagines them through a Swiss modernist lens. The result is some of the coolest images you've ever seen! The book features 200 posters, all microperforated and ready to frame. Or keep them bound in one collection as an art book. The foreword is written by legendary designer Steven Heller.
 
Posters are from legendary indie, alternative, and punk bands such as Jane's Addiction, Blondie, the Beastie Boys, the Clash, the Pixies, Green Day, the Ramones, Devo, the Sex Pistols, Dead Kennedys, Public Image Ltd., Sonic Youth, the Cure, Red Hot Chili Peppers, Hüsker Dü, Danzig, the Replacements, Fugazi, the Lemonheads, Pearl Jam, Pavement, Superchunk, They Might Be Giants, Guided by Voices, Sugar, Sleater Kinney, Violent Femmes, Iggy Pop, Fishbone, Nirvana, and many, many more!
Praise For Swissted: Vintage Rock Posters Remixed and Reimagined…
"The hardest part for you will be to figure out which ones to hang up first."—HOW

"…perfect merger of font and graphic design-nerdery and music lust and snobbery. The art is clean and clever and the bands will make you salivate for shows you wish you'd seen."—Thought Catalog

"This is pretty much the most efficient way to get 200 posters ever."—Buzzfeed
 
"Yes, it's bigger than your average book—but for good reason. Swissted measures roughly 11" x 14" because it's filled with modern recreations of classic rock posters, and it wants you to appreciate them the way you're supposed to: from a nice spot on your wall."—Uncrate
 
"What we're drooling over, visiting and wearing this week: Designer Mike Joyce (not The Smiths guy) dreams up gig posters for Blondie, Black Flag, Pixies, Beastie Boys, and loads more in a Swiss modernist style."—NME
 
"What began as a one-off poster, then a triptych, has now become an ongoing project, with some prestigious commissions and a book of the best Swissted designs now on shelves."—Clash magazine
 
"(Joyce) takes vintage indie and punk concert posters from shows that actually happened…gives them the Swiss modernist treatment — shape-shifting colors and fonts set in a singular lowercase design — and comes away with a radical, mind-f*cked punk and art juxtaposition of ginormous proportions."—MTV Hive
 
"A NYC designer introduces Joe Strummer to Josef Müller-Brockmann."— Design Bureau

"On the surface, it might not seem like punk rock and Swiss modernism have much in common—but pick up Mike Joyce's book Swissted, and you'll see that the music and art movements blend beautifully."—MentalFloss.com
 
"Inspired by the '70s, '80s, and '90s, Swissted's bold and arresting posters mirror the manic energy of the music and the time. Iggy Pop and David Bowie, Minor Threat and Nirvana—Swissted's posters are clashing, complementary, occasionally offensive, and generally delightful."—InterviewMagazine.com

"..what if there was a way to pay homage to your favorite band and have some super stylish artwork, too? Enter Swissted…"—The Frisky

"Show off your great taste and music cred with posters from this chic art book…"—Cosmopolitan
Quirk Books, 9781594746116, 208pp.
Publication Date: March 5, 2013
About the Author
MIKE JOYCE is the proprietor of Stereotype Design. He has designed for many prominent musicians, and Stereotype's work has been featured in more than fifty publications including IdN, Print, Communication Arts, Graphic, Rolling Stone, How, Computer Arts, Village Voice, Huffington Post, and New York magazine. He lives in New York.